Lydie Fuerte
Flamenco - Fusion Guitar
France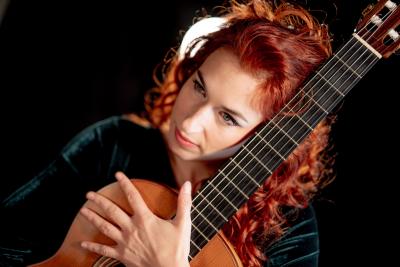 Biography
Lydie Fuerte began learning the guitar at the age of eight with her first teacher, Nicolas Toniutti, who introduced her to flamenco, jazz and South American music. 
It was during an international guitar course that the famous guitarist-composer Roland Dyens advised him to enter the Toulouse Conservatory of Music without delay. This was followed by four years of study with Professor Laurent Vivet, who taught her the rigour of technique and the search for quality sound on the instrument. She obtained a first prize in classical guitar in 2006. 
Always passionate about flamenco, Lydie Fuerte worked on this art with the flamenco guitarist Vicente Pradal a few years later at the same conservatory. In 2012, she obtained her diploma of musical study in traditional Flamenco guitar music.
Throughout these years, she contributes to the creation of several groups (Elya trio, Dyade) which will feed her experience of the scene thanks to numerous concerts until an award, the prize of the magazine GUITARIST ACOUSTIC "Winners 2011 Guitarist Acoustic".
Today, rich in this very eclectic career, Lydie Fuerte devotes herself to her own universe, she composes her own works. Around her guitar, she brings together several talented artists and offers the public a new show "AHORA Y SIEMPRE". 
She has been teaching for more than 15 years since 2007 at the Conservatoire de Cugnaux and gives workshops and master classes throughout France and Switzerland. 
She adapts to each student, giving them both a teaching based on classical guitar technique, flamenco guitar, improvisation and on the other hand arrangements, accompaniment and composition.
Courses by theme, by style, adapted work on technique according to the style. 
CD/DVD