Manou Rao
Electric guitar
Franco-Indian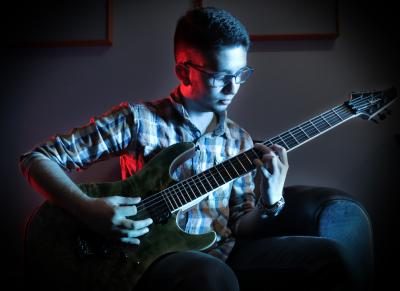 Biography
Manou Rao is a Franco-Indian guitarist, born in France on December 26, 2003. His early years were spent in India, where he started to learn the tabla at the age of 4. He was immersed in a musical environment from a very young age with his paternal grandmother, the famous Hindustani classical singer Vidushi Lalith J Rao. 
The music he enjoyed the most was however Rock and Metal. It was the strains of the electric guitar by David Gilmour, Slash, Bumblefoot, Jimmy Page and many others that inspired him to start learning guitar at the age of 7. He was taken under his wing by the immensely talented Tony Das who nurtured him amazingly through his younger years enabling him to truly blossom. Live music and collaboration were always his preferences and he made over sixty appearances on stage playing with professional groups in Bangalore.
However, it was without doubt his meeting with the famous music producer Sandeep Chowta that changed his life. It inspired him to open up to multiple musical influences and pushed him to always strive for excellence. It also gave him the opportunity to interact with some of the great musicians like Scott Henderson.
He was then followed closely by renowned French musician and teacher Renaud Louis-Servais who enabled him to reconnect with his French origins. He also shared privileged exchanges with legends such as Ron 'Bumblefoot' Thal, and Tony MacAlpine through Corfu Rock School. He extended his musical horizons through summer sessions in France at IMFP and Cours Florent Musique. 
In 2016, when he was just 12, he participated in the Young Performers Program at Berklee College of Music and this motivated him to continue working hard to follow his true passion.
In 2017, his family decided to return to France to enable him to enjoy the double cursus of music and education. He joined the Montpellier Conservatory under the personal mentorship of the famous Jazz guitarist and Director for Contemporary Music, Serge Lazerevitch. In parallel he also took guitar classes with the highly talented Richard Daudé at The Guitar Academy in Nîmes. In 2018 he was the youngest performer at the International Guitar festival in Occitanie. 
In 2019 he was invited to be the guitarist of the Stuart Craig Band, a British Rock group and toured with them in Thailand. This finally culminated at the Burapa Bike Festival where he shared the big stage with some great musicians including his childhood hero Bumblefoot.
Manou wants to follow his passion for rock and progressive music to create his own style through both his dual French and Indian cultures blending the 70's with the 2020's. He strongly believes that the aim of music is sharing, and is currently working on collaborative projects with different musicians from across the globe.