MASAO TANIBE
Classical Guitar
Japan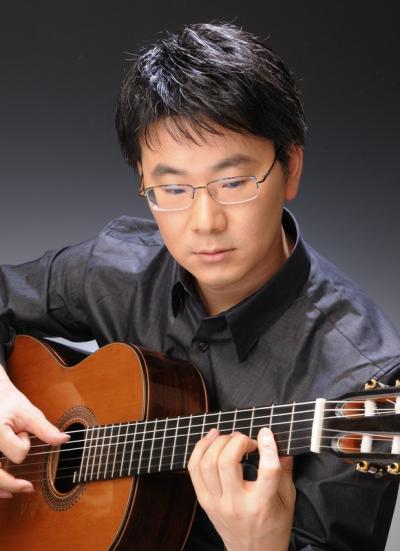 Biography
Described as 'one of the few musicians who touches upon the ultimate truth in music', and 'a natural talent, from whose fingers a song pours out with such concentrated sounds',
Masao Tanibe, born in Nagoya in 1974, started learning guitar at the age of seven with his father, who was also a musician. After graduating from the University of Tokyo, he went on to study at Hochschule für Musik Köln with R. Aussel, from which he gained a degree with the highest honours. He also studied early music under K. Junghänel, contemporary music with P. Alvares, and music phenomenology with H. Liu. At the Hochschule für Musik Karlsruhe, he studied on the Konzertexamen (performer's diploma) course with A. von Wangenheim.
He has been awarded numerous prizes in international competitions, including the highest prize in both the Tokyo International Guitar Competition and the Nolba Caesarina International Guitar Competition, he won second prize and the audience prize in the JoAnn Falletta Guitar Concerto Competition.
His first public performance in the USA was in 2005 at the Kennedy Center in Washington DC. In 2006, he performed with the Buffalo Philharmonic Orchestra (Buffalo, New York) with great success, receiving a standing ovation from the audience of two thousand. The concert was broadcast live on radio throughout the USA and EU. He continues to perform with numerous orchestras, including the Baden Baden Philharmonie, the Bochumer Symphoniker (Germany), the Central Aichi Symphony Orchestra (Japan) and orchestras based in Spain and Brazil amongst others.
Tanibe has been invited to participate in music festivals all over the world, such as the "Gitarras del Mund" (Argentina), where in each case he has been hailed with the highest level of praise. During his tour of South America in 2008, he gave the South American premiere of Hikaru Hayashi's Guitar Concerto, Northen Sail, as part of a project celebrating the 100th anniversary of Japanese immigration. His recording highlights include the highly acclaimed Acentuado (2010) and Oracion para todos (2013), both of which have been released on ALM RECORDS. Based in Japan since 2011, he actively performs and teaches both in Japan and overseas. In 2013, he was awarded the Nagoya music PEN club award.
CD/DVD