Masayuki Kato
Classical guitar
Japan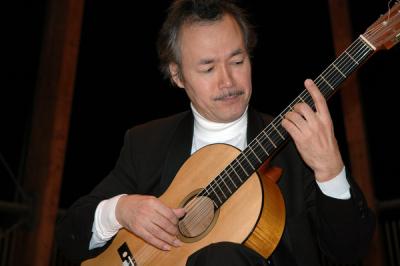 Biography
First prize at the Japanease Broadcast Competition NHK at 1969
From 1972 International masterklasses by Oscar Ghiglia, Narciso Yepes, Alirio Diaz and Julian Bream.
Musical Advice from Alexander Tansmann, John W. Duarte and Joaquin Rodrigo.
Silver prize at the International Music Competition "Viotti" 1974 in Guitar Category Guitar and First prize at the International Guitar Competition in Milan 1974.
From 1974 till 1980 Lecturer at the Musikhochschule Aachen in Germany.
Since 1990 Lecturer at Masterklass in Internationales Gitarrenseminar Reisbach.
More than 1200 Concerts and 18 CDs, DVDs in Solo Performance and in Ensemble with Solists of Stuttgarter Kammerorchester in Trio Matiegka and with world famous Flutist, Peter Lukas Graf, also with Czech Virtuosi in Europe and North – South America and Asia.
Dedication from Carlo Domeniconi " Die Verwandlung" for Guitar solo.
Complete edition of Maulo Giuliani for guitar and guitar with Peter Lukas Graf by Gendai Guitar.
2002 – 2007 Artistic Director for Intenational Guitarfestival Stuttgart.
Since 2005 Member of the board of directors of Hermann Hauser Guitar Foundation.
Since 2007 Artistic Director of International guitar competition J.S. Bach in Germany and Japan.