Mr Hardearly
Electric guitar
France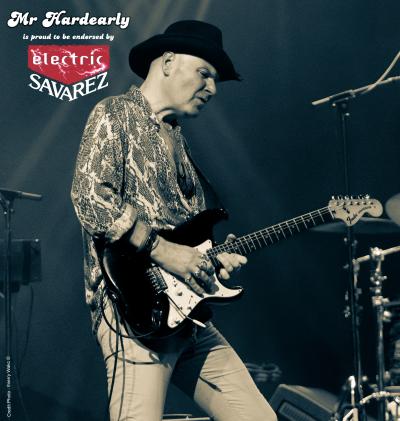 Biography
In his 25 year career, Mr. HARDEARLY has shared the stage with many internationally renowned artists such as ZZ Top, Status Quo, The Commitments, Georgia Sattelites, Van Wilks, Bernard Allison, Fred Chapellier, to name a few.
His new album "Mean Blues" brings a new dimension to his record and musical achievements, a maturity that he has reached by dint of travelling the roads, with more than 1000 concerts throughout Europe, which places him today among the essential blues artists in France!
Mean Blues, Mr H's 5th opus is the one that resembles him the most, allowing him to assert his place among the best French guitarists!
His rocky voice brings the additional touch to emphasize the quality of this album whose release is planned in 2021, still with the label REBEL MUSIC and a distribution SOCADISC.
The 15 tracks that compose it trace the current events that we all live; the one concerning the addictions of all kinds for example with " Ready to fall or Open wide ", but also the sanitary problems and the successive confinements " What the hell is going on? or Stone in my shoe ", and in a lighter way, the love relationships " Two riders or Mistreated ", without forgetting some instrumental burns that he has the secret " White flag, Mean Blues or Song for you ".
This new album is a turning point in his career, much more accomplished than the 4 previous ones, reflecting 13 years of work which brought him a very personal sensitivity which raises him today among the greatest of the French blues.
But, rest assured!  His White Urban Blues (Urban Blues) remains more than ever topical...
Mr Hardearly : an artist to (re) discover on stage too.
Acoustic guitar
Electric guitar