Nazca
Acoustic guitar - Ukulele
France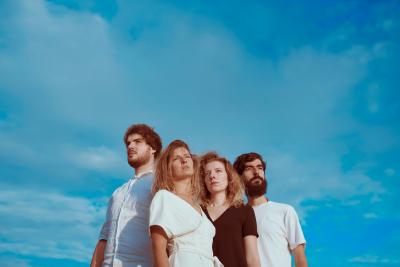 Biography
Nazca mixes folk and tribal songs, giving a wild, organic feel to their pop melodies. Their music is the fruitful collision of forceful percussion with crystal-clear voices, whose ingenious harmonies blend in turn with the ukulele and the musical layers offered by the keyboard. 
A paradoxical mixture of softness and strength, a feeling of life, an idea of birth, which is what the band's name means in Spanish, Nazca is above all the perfect match of the purity of Juliette's voice with Zoé's stormier tones, as well as the
rhythms of Marc's guitars and Navid's captivating percussion, which all meet as if it were meant to be.
Intensely personal, as much in connecting with their music as with their audience, Nazca holds you tenderly in their gaze. To set out on Nazca's path is to discover a miniature world, woven in the heart of a musical jungle, inhabited by a multifaceted imaginary tribe that celebrates nature and unity.