New line Hexagonal Explosion for electric and bass guitars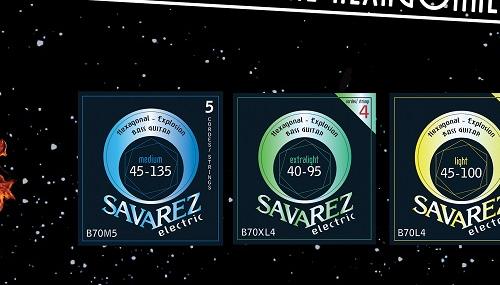 You were waiting for it, we dit it. After folk products, here comes rock. Savarez Electric's range expands of new sets for six strings guitars and 4&5-strings basses.​
An hexagonal core, steel, tin et nickel : a shock quartet
In order to complete the steel range, the Hexagonal Explosion line is made up with strings gauge from 9-42 to 12-52.
These new strings wound on an hexagonal core with a nickel plated wire, guarantee all characteristics of the best magnetic metals. Savarez' strings have a special treatment for an optimum flexibility. The specific production process maximizes sound's specific qualities, brilliant, large overtone spectrum and lead to a fast precise response and great playability, especially for bending. The discovery of new raw materials, allied to our most advanced new process techniques bring to Hexagonal Explosion strings the originality of their innovative performances.
Perfectly compatible vibrato "Floyd Rose", they optimize the specific qualities of the sound and the feeling of hexagonal core. The manufacturing process guarantees a longer life of the strings, fast stabilization of chords even after assembly on vibrato "Floyd Rose" and a T-Rex attack. These new strings have an incomparable shine and a well-balanced stamp, a very good sustain and an output level particularly increased thanks to the chosen materials. To preserve a quality of sound and game, Hexagonal Explosion strings are delivered in an anti-oxidation preservation bag.
Hexagonal Explosion strings :