Nina Attal
Electric guitar
France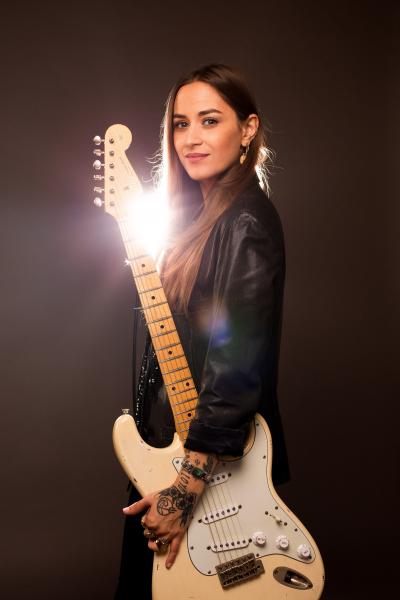 Biography
According to a New York Times survey published last year, the number of young women playing the guitar is steadily increasing, but Nina Attal is a pioneer with over 600 concerts to her credit. The 29-year-old French singer and guitarist has released Pieces of Soul, her fourth album, which shows her return to the blues, rhythm'n'blues and rock that inspired her passion for the instrument.
Crowned in 2009 at the Blues sur Seine Festival springboard, the young guitar prodigy with a powerful soul voice nevertheless turned to explosive funk-groovy sounds on the Urgency EP (2010), followed by the albums Yellow 8/17 (2011) and Wha (2014), before more synthetic textures appeared on Jump (2018), preceded by the Verso EP (2016). The singer-songwriter then imposed herself on the public like a diamond in the rough, free to shape her music as she saw fit.
Written and composed in the wake of a road trip on the West Coast of the United States, then produced last summer in Normandy by ex-Beat Assaillant Maxime Lebidois, her fourth album is all the more eagerly awaited, signing her arrival on the excellent Zamora label after 10 years of self-production. His twelve tracks, including a cover of Linda Ronstadt's "You're No Good", put the guitar back at the heart of his creative process, through a range of sunny sounds, discreetly and respectfully tinged by various Californian influences (Ben Harper, Lenny Kravitz, John Mayer...). The riffs with rock saturations ("I Won't Make It", "Get Your Shit Together") go hand in hand with formidable soulful blues ballads ("Shape My Home"), folk ("Daughter") or rhythm'n'blues ("I Can't Stop Loving You").
His very personal lyrics reflect as much his questioning as his desire for emancipation. Nourished by her incompressible love of music, which is in her skin, just like her tattoos, Pieces of Soul undoubtedly offers Nina Attal a new dimension.  To be listened to urgently!