Noé Berne
Bass
France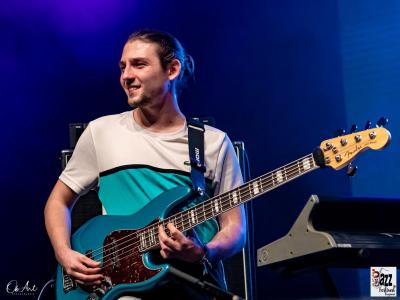 Biography
Born in 1996 in Vienna into a family of musicians, he studied jazz guitar from a very early age at the Vienna Conservatory and then at the ENM in Villeurbanne.
At the same time he began studying bass at the CNR in Lyon with Jérome Regard and was moving more and more towards this instrument.
He graduated with honours from the jury in 2018.
Based in Lyon, he is part of the group SUPA DUPA with whom he will perform on many stages such as the Transbordeur, Musilac, la Cartonnerie, la Vapeur, Woodstower, where he will share the stage with Orelsan, Lomepal, IAM, Chinese man, Electro deluxe, Illa J... He will notably follow the group Deluxe on their tour for several dates.
He is also developing by joining the group of the Lyon singer Thaïs Lona who has just signed on Ibrahim Maalouf's label.
They will open for him at the Olympia for 3 nights and at the Halle tony garnier.
At the same time, he developed more and more on the Parisian scene and quickly joined the TOM IBARRA GROUP, with whom he recorded the new album and toured China and Guyana.
He also collaborates with many artists or groups such as Nemir, Lord Esperanza, the ONL of Lyon, Thomas de pourquery, David linx, Anne Sila, Ryan Kilgore, The Buttshakers, Charlie and the Soap Opera...