Nocy Karkour
Guitar
United States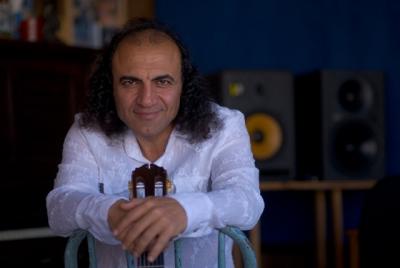 Biography
World-renowned artist, Nocy, is a rich, experienced classical and contemporary guitarist, influenced by different world cultures. His live performances are explosive.
Nocy seamlessly blends the world flavors of Flamenco, Latin, Jazz, Blues and Bossa Nova. Hailed as an "Orchestra on Six Strings" by the Pasadena Weekly, Nocy Karkour was schooled at the Paris Conservatory for Classical Guitar at a young age to enhance his musical knowledge. 
 Nocy took private lessons with Betho Davezac, who won many prizes in Europe and was nominated as one of the world's best classical guitarists.  Mr. Davezac mastered his classical-guitarist skills with the legendary classical guitar master, Andre Segovia.  Nocy studied a wide range of musical traditions.  Nocy's formal training is combined with his natural raw talent. Every song that he plays is a true expression of his soul. Nocy was discovered by Las Vegas resort mogul, Steve Wynn.
 Nocy and his band were quickly booked by the Mirage and Bellagio Hotels. 
Throughout Nocy's musical career, he has recorded with Grammy Award-winning, musician and composer, David Foster, Jon Anderson (YES), Gipsy Kings, Rod Stewart, Kenny G, Manitas de Plata, among others. 
 Nocy was the first musician to perform our National Anthem on a classical guitar before a Lakers basketball game at Staples Center Arena in Los Angeles.  Nocy stated, "It is the greatest honor in my career to perform for my country." With 17 albums to his credit, including his own seasonal record, "A Flamenco Christmas," Nocy continues to perform and headline festivals and concerts around the world, drawing crowds in record numbers. Nocy's CD "Beauty" was released in April 2011 and was nominated as one of the best 200 music albums in the U.S. by Billboard Music. It was also featured on the front page of iTunes in the UK and Ireland.  Nocy's CD, "Guitar Whisper" is top selling on iTunes.
Nocy has been playing on New Year's Eve at the Picasso restaurant at Bellagio Las Vegas for 18 years to an audience of loyal fans who return yearly. 
Nocy's "Simplicity" CD was featured on Fox News 11 LA and on the front page of iTunes in Australia and New Zealand. Nocy's high tech recording studio uses HD ProTools.  Nocy produces, arranges, records, engineers and masters his albums directly from his home recording studio.
 Nocy also produces other bands. In addition to touring and recording, Nocy helps teach his fellow musicians how to create a unique sound.  Nocy teaches privately, from beginners to advanced-level students, who are committed to working hard to practice their art.
 Nocy is thankful every day for his talent, which allows him to compose, write, perform, record and master his own