Nora Buschmann
Guitare classique 
Allemagne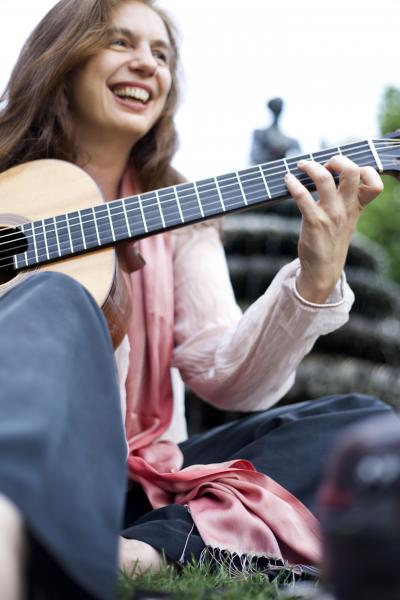 Biography
Guitarist Nora Buschmann was born in Berlin and studied music with Monika and Jürgen Rost at the Franz Liszt Conservatory in Weimar. She received a grant from a foundation for young artists and continued her studies in the soloist class of Hubert Käppel at the Cologne conservatory. She has won prizes at national and international competitions and received a scholarship from the German Music Council.
During a five-year sojourn in Greece, she focused intensively on traditional Greek music and taught at the conservatory and music school in Thessaloniki. She maintains a lively exchange with contemporary composers for the concert guitar, and regularly performs and premieres their works. In her programs, she unites the most diverse musical traditions and regions and thereby acts as a kind of musical cultural ambassador. As a guest performer, she has been to all of Europe's most countries for music, as well as to Turkey and South America. She receives invitations to top-notch festivals, gives master classes and is a very sought-after juror.
In 2005, she spent a number of months in Buenos Aires, Argentina, as a guest professor. She worked closely with Argentine musicians and composers, like Juan Falu, Carlos Moscardini, and Quique Sinesi.
Her past three solo CDs, "Live in Bern", "Suite Orientale", and "Apassionata Latina" – the last two were released by Acoustic Music – earned kudos from the critics. Furthermore, she recorded another CD in a guitar duo with the Italian composer Carlo Domeniconi on "Selected Works 3", featuring his works for two guitars. Since 2016, Nora Buschmann has been involved in a new project with the Argentinian Augustin Luna: The duo Tierra del Fuego plays own arrangements of Argentinian folk music and tangos. Since the summer semester of 2009, Nora Buschmann has been adjunct professor for guitar at the HMT Rostock and conducts her own guitar class for Bachelor's and Master's degrees, and concert exams. She has been department head since 2012.
In 2016, she was nominated honorary professor in Rostock. In addition, she was given the post of professor for guitar and method/pedagogy at the Carl Maria von Weber conservatory in Dresden.