Olivier-Roman Garcia
Guitare Classique, Acoustique, Électrique
France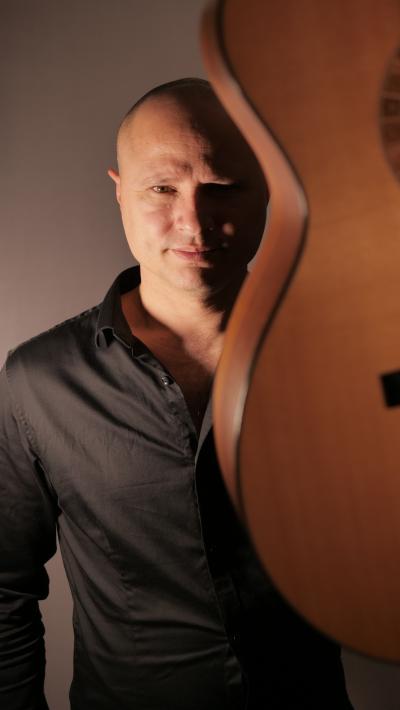 Biography
Olivier-Roman Garcia has developed a very personal style thanks to a curiosity without borders.
He studied music at the Jam (Jazz Action Montpellier) where he currently teaches guitar, harmony and improvisation.
Then during training course with in particular Scott Henderson, Steve Coleman, Dave Liebman, Joe Diorio.
Very influenced by the musicians and traditions he met on tour, he actively integrates the Pop, Jazz and World music scene.
Over the past twenty years, he has collaborated in the studio or on stage with artists such as Imany, Christophe Godin, Kévin Reveyrand, Jean-Luc Difraya, Françis Arnaud, Dominique Dipiazza, Emmanuel Bex, Davy Sicar, Pierre Vassiliu, Leila Négrau, Grèn Semé, Frédéric Monino, Stéphane Guillaume, David Linx, Olivier Ker-Ourio, Patrice Héral, Lionel Suarez, Nelson Véras, François Laizeau.
On tour in : France, Belgium, Switzerland, Germany, Italy, Portugal, Bulgaria, Latvia, Estonia, Belarus, Russia, Greece, Morocco, Algeria, Malaysia, Japan, Mexico, New Caledonia, Reunion Island, Madagascar, Guadeloupe.
2022 is currently touring with :
The Ultimate Acoustic Guitar Extravaganza (Duo with Christophe Godin)
Racines Rêvées (World music creation with Sasha Bogdanoff/ Thomas-James Potrel/ Quentin Boursy)
Olivier-Roman Garcia Solo and Trio
Kevin Reveyrand quartet
Hokusai Trio
Acoustic guitar
Classical Guitar
Electric guitar