ORIOL MARTINEZ CODINACHS
Classical Guitar / Electric Guitar 
France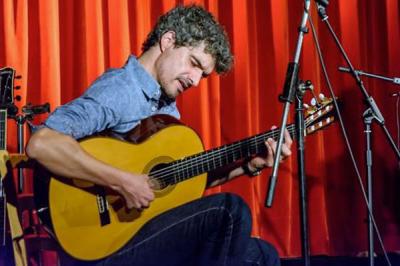 Biography
From Barcelona he began playing guitar as a teenager. Heckled by folk and urban music, he discovered jazz and train of the hand of musicians living in his hometown.
He integrates several formations formed by musicians especially from Latin America. It is these encounters that make him discover other musical cultures. By combining his knowledge and musical experiences of jazz and his growing passion for South American music, forms of self-taught from the records and the direct contact with the musicians of the contemporary scene.
His academic background, very varied, allow him to take courses in several disciplines at the ESMUC (Higher School of Music of Catalonia) where he expanded his knowledge of harmony, composition, arrangement and sound techniques and production.
He completed his training at the SIBELIUS Akatemia Helsinki and Lyon Conservatory. He finally settled in Lyon in 2008, where he obtained the State Diploma of Rhône-Alpes CEFEDEM Guitar Teacher and participates in many projects from tango to jazz.
Classical Guitar
Electric guitar