OSCAR GUZMÁN
Flamenca guitar,
Spain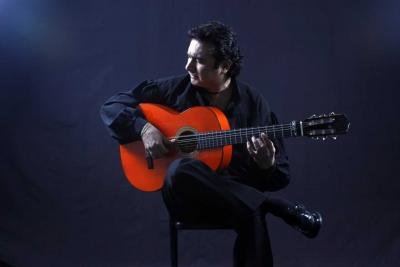 Biography
OSCAR GUZMÁN started his guitar studies with Oscar Herrero, Mario Cortés, Manolo Franco, among others. He was then guided by the outstanding Sevillian guitarrist Rafael Riqueni. His career as a guitar soloist began at an international level as he toured Europe and South America. Despite his youth, he has performed concerts all over the world. In 1999 he obtained second place in "VI International Guitar Interpretation Contest", in Cagliari (Italy). In 2003 he was awarded 2nd place in the "IV Concurso de Guitarra Flamenca de Alhaurín de la Torre" (Málaga, Spain) and he was finalist at the III Contest of Flamenco Guitar for Concert "Campos de Guitarra", which took place in 'Gran Teatro de Cordoba' in 2003. In 2007 he was awarded 2nd Place in the II International Flamenco Guitar Contest 'Niño Ricardo', (Murcia, Spain). The jury in this contest consisted of outstanding flamenco guitarists as 'Serranito' and Carlos Piñana, and writers as Félix Grande and Norberto Torres.
He was invited to perform in the "V Flamenco Festival im Sommergarten des Pfefferberg" in Berlin (Germany) where he had the special collaboration of Pepe de Lucía. He collaborated in Pedro Sierra's group performing in various venues and events such as "XII Bienal de Flamenco de Sevilla" and the Flamenco Cycle "El Flamenco que Viene" in Seville. He participated as second guitar of acknowledged flamenco singer Ana Reverte in the 'Palau de la Musica' in Barcelona.
From 2004 to 2018 his concert activity was very intense, as he was invited to major festivals and events in countries such as Argentina, Armenia, Australia, Austria, Abu Dhabi, Belarus, Bulgaria, Canada, Chile, China, Cyprus, Czech Republic, Denmark, Dubai, Finland, France, Germany, Greece, Holand, Hungary, Iran, Italy, Macedonia, Malta, Morocco, Montenegro, Norway, Peru, Poland, Russia, Saudi Arabia, Singapur, Slovakia, Sweden, Switzerland, Turkey, Ukraine, USA, etc.
He has released his first album, 'The Street of the Memories', in 2013 with the collaboration of Pepe de Lucía and Ramón El Portugués, as well as other renowned flamenco artists.
Oscar Guzman has received numerous praise and comments from audiences and press wherever he has taken his art and his guitar.
CD/DVD