Pascal Mulot
Bass
France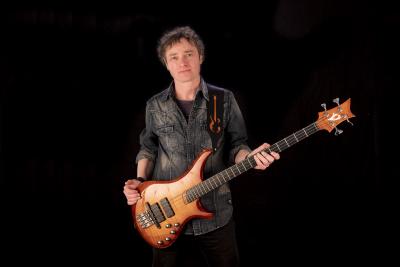 Biography
Born of a professional double bass player father, Pascal Mulot was immersed in jazz music throughout his childhood. Then it was studies at the conservatory in classical double bass and clarinet classes that gave Pascal the rigour and seriousness of this essential learning. All that was needed was rock music to complement an already well-established culture in jazz and classical music. This will be done with the meeting of the singer Suber with whom Pascal will create the first Funk Rock band in France: "Suberbebop". This group will tour the stages of France and Navarre from the smallest to the largest: Bercy to open Lionel Ritchie.
Then it will be the collaboration with the mythical hard rock guitarist Patrick Rondat. Patrick and Pascal were the first two French musicians to merge classical and contemporary music. This collaboration gave birth to the album "Rape of the earth" released on a major label in 1991; it is a shock and unanimous recognition in the national press that remains unique and unequalled to this day.
Pascal is also the author of 3 methods that hold the sales record for educational videos of all nationalities and all instruments combined. Involved in pedagogy Pascal gives courses and Masterclasses throughout France and abroad.
Present on the international scene, on the web and in pedagogy for 25 years as the national leader of his instrument, Pascal had the chance to meet the recognition of the public and the profession to become an essential reference and was elected among the hundred bass players of the century by Bass Magazine.