Pat McManus
Electric Guitar - Acoustic Guitar - Violin
Ireland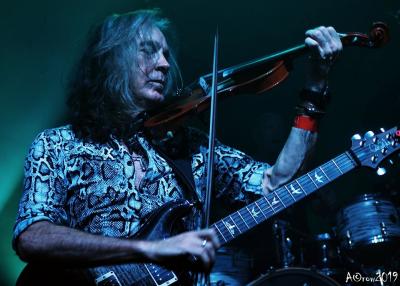 Biography
Irish guitar legend Pat McManus grew up in a family steeped in Irish Traditional music. Both Pat's American/Irish Father John and Mother Valerie were well respected musicians in their own right.
Pat's first instrument was the violin, which he started playing at the age of 4,but by 7 years of age he was also playing the acoustic guitar and making appearances with the family band and on national television.
By the age of 14 years he had won the 'All Ireland' on the 'fiddle' in the adults category. Being a folk purist he had not really thought about Rock and Roll, but by the age of 18 his thoughts had changed ...and so he picked up the electric guitar.
Pat then formed what was to become 'Mama's Boys' with his two brother John and Tommy and they very quickly became an overnight hit around the clubs and ballrooms of Ireland. They then went on to tour the UK and Europe with 'Hawk wind', 'Wishbone Ash' and then were asked to support 'Thin Lizzy' on their farewell tour. This culminated in the band playing at the 'Reading Festival' as an unsigned band, unheard of at this time....and it was there they were finally signed to a worldwide record deal with Jive/Arista ....and Virgin France.
They went on to tour the world, working alongside such bands as Bon Jovi, Ratt, Black Sabbath, Iron Maiden, Rush, Sting, Gary Moore, Scorpions, to name a few, both as support and headliners.
In 1994 Pat's younger brother and Mama's Boys drummer Tommy passed away. Pat and John felt they could no longer continue with the band and took some time out, returning with new band 'Celtus' in late 1995.The band was immediately signed by Muff Wildwood to Sony Music and after recording their first cd 'Moonchild', they won rave reviews. In 1996 they won the Irish Music Award for best album, beating U2 and the Corrs etc. The band went on to record 4 more albums, toured extensively and fulfilled their ambition to play the Albert Hall, but in 2001 after a last show at the 'Finsbury Park Fleadh', Pat decided he wanted a break and to return to live in Ireland.
After his return to Ireland Pat worked on several other artists albums and was also writing for film and tv. He found himself involved in more traditional projects, which culminated in an appearance at the 'White House'! He also joined up with two other bands 'Indian' and 'The Painkillers' both to play live, write and record.
In 2006 Pat felt he was ready to get back to his own project, so he started to put together the 'Pat McManus Band' and recorded his first solo Blues/Rock album 'In My Own Time'.
By 2007 the band was officially launched the band started touring and was in demand to do shows in Ireland, the UK and Europe. In 2008 Paul Faloon joined the band, with Marty McDermott joining some seven years ago to complete what is now the quintessential line-up. The band are continually in demand and some say one of the hardest working acts on the road.
They have headlined 2 European Tours a year since 2007 and also played at many prestigious festivals. Highlights include supporting the Scorpions with audiences of up to 25'000 and so many great festivals throughout Europe from Norway to Corsica.
There had been 6 more albums and three live DVD's. 2019 is Pat's 40th year as a professional musician.To celebrate that a new CD titled 'Rewind' has been released showcasing some of Pat's songs from his career.It is a totally reworked acoustically arranged album, showing many of his compositions in a very different light.
Pat's guitar and song writing has now made him one of Ireland's rock and blues legend and in the last few years he has been named in the top five Irish guitar players of all time. He is still affectionally known as the 'Professor', a name given to him back in the eighties because he was always willing to help young players and chat to fans about music and instruments...and that hasn't changed as he still does that today....he is also a very well respected traditional violin player, with a wealth knowledge passed down from his family line.
Acoustic guitar
Electric guitar
Violin