Pat O'May​
Electric guitar
France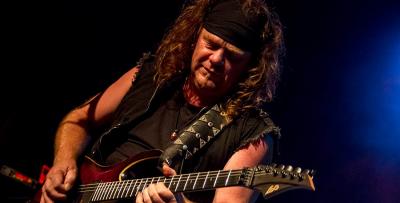 Biography
Pat O'MAY made his debut in Marienthal and Road 66, then chose to pursue a solo career, with two first albums.
In 1999 he released his 3rd opus "Breizh/Amerika" produced by Ron Thal (Guns'N' Roses) recorded in Brittany and mixed in New York, in which he asserts his fusion of Hard Rock and Celtic music. He went on a French and European tour to promote his albums. He was then contacted by Alan Simon to participate in the rock operas "Anne of Brittany" and "Excalibur" with Barclay James Harvest, Angel, Fairport Convention, Cécile Corbell, Tri Yann, actor Jean-Claude Dreyfus, the Choir of the Genoa Opera, Johnny Logan, Alan Parson, Martin Barre (Jethro Tull), Jacqui McShee and John Helliwell (Supertramp).
At the end of the "Excalibur The Celtic Rock Opera" tour, which is performed in front of 100,000 spectators, Pat continues on to a new album "Celtic Wings" where he records duets with Moya Brennan, Martin Barre, Alan Stivell... At the same time he joined the Martin Barre's Band for 3 European tours. The following year his friend Alan Stivell invited him to join Dan Ar Braz for his anniversary concert at the Olympia, then he went on tour in France and Switzerland for a guitarist set featuring Uli Jon Roth (ex Scorpions) and Pat Mc Manus before concluding the "Celtic Wings Tour" in Germany and with Scorpions at the Zenith
of Nancy!
Back in the studio for the recording of "Behind the peaks", which sold more than 15,000 copies worldwide! Then, at the request of his record company Keltia Musique, he composed and arranged "Keltia Symphonia", inspired by the standards of the
Breton directory. Recorded in Sofia with the New Sympho-ny Orchestra, the release will be immediately followed by a series of concerts in Germany and France.
On October 7, 2017, Pat O'MAY celebrates his 23rd birthday in front of a packed house surrounded by his friends with whom he has shared the stage or studios! 2018, the double live album with no less than 23 tracks is released by Coop Breizh. A prolific artist, Pat O'MAY has written numerous music for Thalassa and for films and short films. Pat O'MAY, a name to remember, an artist to follow!