PAVEL KUKHTA
Classical guitar
Belarus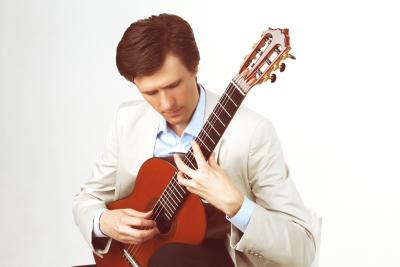 Biography
Pavel Kukhta is a soloist of the Belarusian State Philharmonic Society and he teaches in a Belarusian State Academy of Music.
He was born in Grodno, where he got his first musical education at the music college with prof. V. Zakharov. Having graduated from Belarusian State Academy of Music in Minsk he entered the master course under prof. E. Gridiushko. As a student he received grants from the Ministry of Culture of the Republic of Belarus and from the Special Fund of the President of the Republic of Belarus.
He took part in master classes of such famous guitar players as: P.Romero, D.Russell, H.Keppel, O.Ghiglia, C.Marchione and others.
Pavel is a laureate of a number of international guitar competitions in Austria, Germany, Israel, Spain, Italy, Serbia, Poland, France, the USA, Russia, Czech Republic, Ukraine.
Also Pavel is the first Belarusian who got top prizes at the most prestigious international guitar competitions.
The year 2015 is marked by a great event in Pavel's career: he won one of the most prestigious international guitar competition in Heinsberg (Germany).
He recorded his solo CD at Naxos – the world's leading classical music label from Canada. This is the second CD of the musician. The first one was recorded in Nordhorn (Germany) at P&C Samsong Productions 2012.
Besides, Pavel cooperates with such collectives as: the Chamber ensemble "Ensemble Perosi" (Turin, Italy), "Valencia Orchestra" (Valencia, Spain), "Orquesta Lírica De Castelló" (Castellon, Spain), Orquesta de la Universidad de Granada – OUGR - (Granada, Spain), "Arco" (Moscow, Russia), the National Symphony Orchestra of Ukraine (Kiev, Ukraine), the Zielona Góra Philharmonic Orchestra (Zielona Góra, Poland), the Ensemble of soloists «Classic-Avantgarde» (Minsk, Belarus) and others.
Pavel collaborates with a famous Belarusian composer Galina Gorelova.
CD/DVD