Philippe "Fifi" Chayeb 
Electric bass guitar - Double bass
France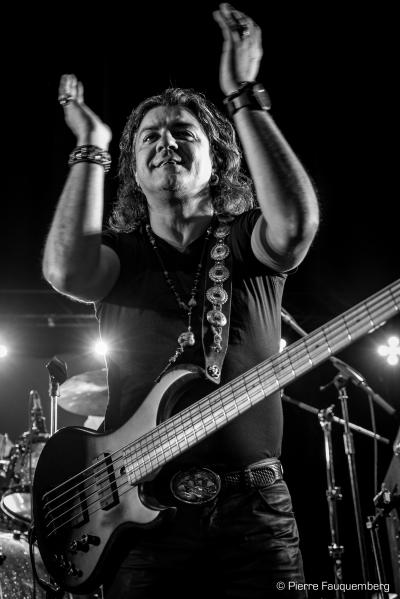 Biography
Born in Nice, he began playing the piano at the age of 5 and then the bass at the Nice conservatory at the age of 6. He remained for 17 years in this conservatory then he arrives in Paris in March 1987. His many musician friends affectionately call him 'fifi'.
Philippe Chayeb is a great bassist who has imposed his groove and his superb sound with artists as diverse as Mylène Farmer, Michel Legrand, Chris Réa, Diane Dufresne, Alizée mais aussi des "stars" du jazz et de la fusion comme Larry Carlton, Billy Cobham, Sylvain Luc, Didier Lockwood…
LIVE : Chance Orchestra, Diane Dufresne, Gilbert Montagne ,́ Sylvie Vartan, Catherine Lara, France Gall, Sacha Distel, Babik Reinhardt, Jean Marie Ecay, Dee Dee Bridgewater, Paul Mauriat, Dionne Warwick, Carmine Appice, Manu Dibango, Idrissa Diop, Michel Legrand, Ray Gomez, Elisabeth Caumont, Olivier Hutman, Thierry Eliez, Guitars Unlimited, Patrick Bruel, Artmengo, Guy Marchand, Pierre Vassiliu, Richard Clayderman, Ginie Line, Alizee, Association Laurette Fugain, Julie Zenatti, Michel Pettruciani, Andre Ceccarelli, Bernard Arcadio, Musical Direction of Dany Brillant and Helene Segara, the Orchestra of Radio France (homage has Frank Zappa), Roland Romanelli, Claude Salmieri, Sylvain Luc, Larry Carlton, Robben Ford, Makoto Kuriya, Akira Ichi, Mike Terrana, Billy Cobham, Steve Ferrone, Ricky Lawson, Ernie Watts, Frank Gambale, Mel Gaynor, Laurent Gerra, Roberto Alagna, Vladimir Cosma...
STUDIO : Diane Dufresne, Paul Mauriat, Michel Legrand (Musics Movies), Babik Reinhardt, France Gall, Michel Leeb, Sacha Distel, Jean Marie Ecay, Michal, Ginie Line, Idrissa Diop, Moktar Samba, Bruno Coulais (Musics Movies), Alizee, Jean Marie Ecay, Mylene Farmer, et beaucoup D'autres…