PIERRICK LEMOU
Violin
France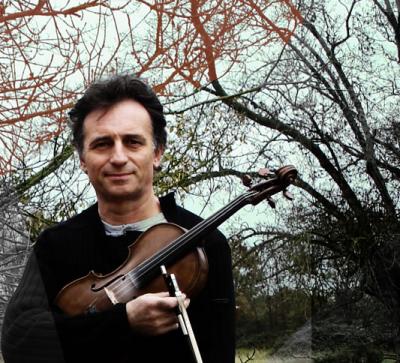 Biography
Pierrick LEMOU is the one of the Breton fiddlers that marks of his artistic impression all a generation of musicians.
A career that begins by collectage as early as the adolescence, his research work and the fruit of its collect some does today an expert on the musical Breton culture. (Author of the CD "Sonneurs de violon en Bretagne", one of the authors of the book "Breton Music" edited Le Chasse Marée) Pierrick traveled together in festivals through the world to represent the music of High one and of Low Brittany. His dynamism, his vitality, his talent, translate themselves and assert themselves within several groups, thanks to his very good instrumental technique and its knowledge and competences of the Irish catalogs, cajun, and Quebec. (Djiboudjep, Cabestan, La Godinette, Archetype, Gwenva, l' echo, Strakal, La Volute, Macalla, Duet Rebeaterien,Lemou Trichet etc. ..). With several formations, it gives many concerts where it meets and plays with number of excellent musicians of the Celtic culture (Gerry O'Connors, Eric Favereau, Declan Corey, Paddy Moloney, etc). At first years 90, It was also for 5 years the road companion of alan Stivell. Not satisfying itself to reproduce this that already exists, it is fond of particularly to work on creations where to divide scenic projects. (les Cousins du Cousinages, Desires under The Elms of Mr. Langoff, La Ville D'Ys. Alain LeGoff, A chacun sa merf Hugues Auffray, The 30 years Tri Yann,Le Canal de Nantes à Brest, etc. ..) It participates in more of about thirty recordings of discs, of which the anthology of the French song (prices of the academy Ch.Cross), Again Alan. Stivell etc.. Today, this tireless musician, puts his passion to the service of his own formation. It sign equally the Breton music & Irish at the time of numerous international trainings.
Pierrick LEMOU is part of these artists that carried the Breton music until our door. A music done hand!
CD/DVD