REMI JOUSSELME
Classical Guitar
France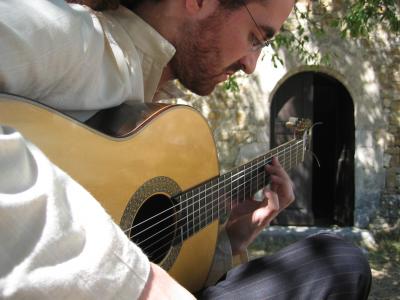 Biography
A versatile musician, Rémi Jousselme is engaged in a vast field of artistic projects. During his career, he has shared the stage with many instrumentalists and ensembles, as well as popular or classical singers, dancers and actors.
Born in Marseille in 1977, Rémi Jousselme won the first prize of several international competitions in France and abroad, including the prestigious "Printemps de la Guitare" in Belgium, which rewarded a French guitarist for the first time. He recorded on this occasion a disc from the romantic repertory to contemporary creation.
His second album "Brasiliana" was released in 2005 at Altaïs Music, a live DVD in Seoul was published in 2009, and his last album "Exils" dedicated to the composers Toru Takemitsu and Atanas Ourkouzunov was released in November 2016 on the Spanish label Contrasts Records.
Very active in the field of modern music, he has performed with musicians and ensembles of today' scene (Musicatreize, Ensemble Intercontemporain, Gauthier Capuçon, Quartet Bela ...) and has performed in international festivals of Guitar from Paris, Moscow, the Folle Journée de Tokyo, Avignon In Festival, Aix-en-Provence Lyric Art Festival, Musica de Strasbourg, les 38ème Rugissants, Royaumont Abbey, Novel Hall of Taipei ... and worked with composers as Philippe Leroux, Zad Moultaka, Bruno Mantovani, Alvaro Martinez, Felix Ibarrondo, Jean-Pierre Drouet ...
He is a member of the Ensemble Musica Nigella as well as of the Collectif Quest, ensembles with variable geometries that attach themselves to defend creations and daring repertoires.
Desiring to help promoting guitar activity in Paris, he is the co-artistic director of the Sul Tasto International Guitar Festival.
Rémi Jousselme teaches as a full professor at the Conservatory in Tours (France).
He plays as a soloist or chamber musician in Europe, Russia, Asia, with a Vicente Carrillo guitar, and Savarez strings.
CD/DVD