Rodolphe Raffalli 
Gypsy jazz guitar
France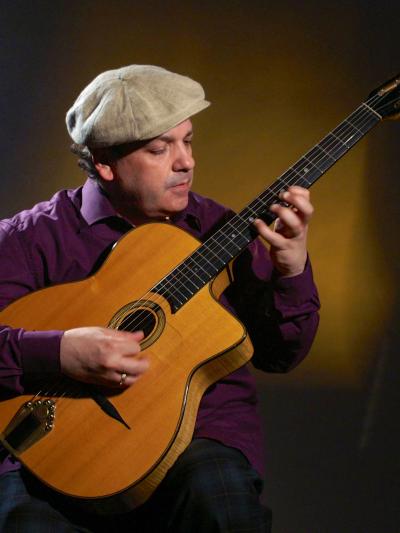 Biography
Rodolphe was born near Paris in 1959. He began to play the guitar very young as a self-taught musician.
If his encounter with the Gypsy world of guitar players is crucial, Rodolphe's main character and talent is his eclectism : this musician can play the South-american folklore as well as the classical repertoire for the guitar !
Rodolphe has the soul of the gypsy guitarist. He met them all, down in Saint-Ouen, or at Montmartre, playing for hours the jazzified popular song repertoire, and – of course – Django's music.
Between generosity and timidity, fidelity to the roots and the heritage of the gypsy swing and need to conquer new territories for jazz guitar, this Selmer style playing guitarist is distinguishable from any others by his unique sensitivity and audacity.
Long-time well known from the gypsy style lovers in Paris, Rodolphe recorded his first CD in year 2001. His « Hommage to Georges Brassens », fruit of an eclectic and very personal swing, achieved an amazing success in France, while we were commemorating the 20 years anniversary of the great poet's death. 15 000 sold CDs later, Rodolphe reunited his swinging team to record another rare beauty. « Gypsy Swing Guitar », his second CD, recorded in 2003 (with already legendary jazzmen Christian Escoudé and Florin Nicolescu), is really impressive by its inspiration, its innovation and its repertoire.
A musician that sounds like no-one else : this hard-to-achieve definition of a true jazz player !
CD/DVD