ROLAND DYENS
Classical Guitar
France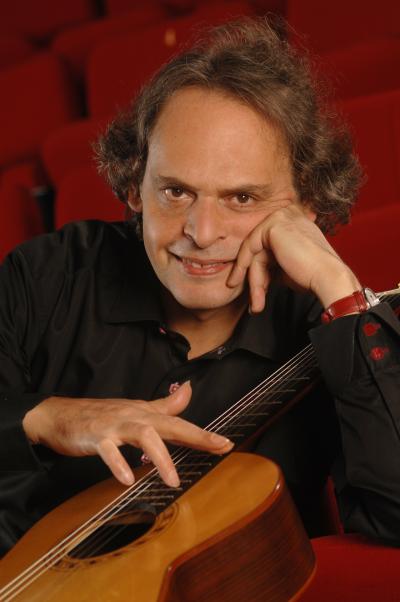 Biography
In 1976 Roland Dyens enters the class of the Spanish master Alberto Ponce. He obtained his Degree Concert at the École Normale de Musique of Paris.
Alongside his instrumental studies, Roland Dyens also attends the classes of the precious teacher and composer Désiré Dondeyne from which he will be awarded with a 1st prize of Harmony, Counterpoint and Analysis. Among the most distinguished awards obtained at the beginning of his career is included the Special Prize of the International Competition "Città di Alessandria" (Italy) and the prestigious Grand Prix du Disque Charles Cros. Also winner of the Menuhin Foundation, Roland Dyens was ranked at 33 by Guitarist magazine's Top 100 global guitarists of all styles.
In September 2006, he received the "Chitarra d'Oro" for his body of work by the Presidency of the International Competition "Città di Alessandria".
The following year, he deserves the honor of being the composer of the piece for the prestigious International Competition GFA (Guitar Foundation of America) which, in 2007, takes place in Los Angeles. That same year, during his autumn tour of North America, the Canadian press devotes giving it 5 stars for his recital in Winnipeg on October 6. This is the second time a similar fact occurs in the musical annals Daily Winnipeg Free Press since its creation in 1872.
On 27 July 2008, Italy again devoted his work with the "Premio per la Composizione" at the 2nd International Guitar Festival "Città di Fiuggi" (Rome). A few months later, he deserves the honor of being selected to write and direct the ensemble music to commemorate the 20th anniversary of the prestigious Association of Guitar Sets in Japan. "Soleils levants" will be released November 9, 2008 in Nakano Main Hall of Tokyo.
January 21, 2010, Roland Dyens is the only classical guitarist invited to participate in the tribute to the great Django Reinhardt to mark the centenary of his birth during a concert at the legendary Théâtre du Châtelet in Paris. And in 2011, during the International Guitar Festival in Cordoba the Spanish press titled Roland Dyens as "El mago de la guitarra" (the magician of the guitar) assigning to turn the coveted 5 stars after his recital of 12 July.
Roland Dyens was a Professor at the National Conservatory of Music in Paris. He passed away on the 29th October 2016.
Pure moments, moments of creativity, friendship, celebration, extraordinary music, magical moments, emotions, intensity, humanity, Roland we owed you. Your friendship, your affection, so precious, sincere, shared with your family, your friends have profoundly marked us. For all this, thank you Roland.
We miss you
CD/DVD