Sébastien Garsia
Guitar
France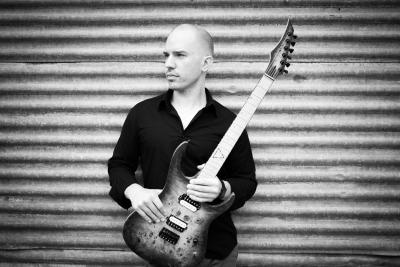 Biography
Sébastien was born on 20 March 1980 in Grenoble. At the age of 14, he started playing the guitar as a self-taught musician. He quickly composed his first songs and formed his first metal band. During 10 years he joins or forms several projects of all styles and gives a lot of concerts.
In 2005 he joined a funk band "West Claix Bridge" which changed his vision of music. He toured a lot during 5 years and released an EP (2008). At the same time he formed "Somdravz", a power metal prog band with which he also played a lot of gigs and released an EP in 2008.
In 2010 he joined "anasazi" a prog metal band with whom he recorded 2 albums and 2 EPs.
In 2011 (at the same time) he forms "Croak", a Franco-Canadian project of Stoner Metal and releases an EP "Croak". The same year he leaves his job to devote himself to music and he joins "l'APEJS" a music school which offers a 2-year professional course which he completes in 1 year. He graduated with honours and was top of his class.
In 2012, he became a guitar teacher.
In 2013 he joins "the electric barock quartet" formed by Alex Cordo and gives several performances.
In 2014, he starts to get noticed and produces web demos for brands as well as masterclasses with Stefan Forte. The same year he joins "JAG" a professional band and performs 60 concerts a year.
In 2015 he forms a rock fusion project "NOODLE" which unfortunately won't live long but will share the stage with Christophe Godin and his band "Morglbl".
In 2016, he became an educational speaker for the magazine "Guitare Xtreme" for more than ten issues.
In 2017, he formed "French Palace" (electro rock funk) with which he still tours today and notably once a year in the Indian Ocean.
In 2018 he becomes ambassador for "Aviator guitars" as well as Beta tester and demonstrator for the multi effects brands "Hotone and Valeton".
In 2019 he formed the duo "Golden Hour" which was an immediate success, leading him to tour in France and Switzerland.
In 2020 he released his first instrumental Ep "CRAB" available on all streaming platforms.