SACHIKO MIYASHITA
Classical Guitar
Japan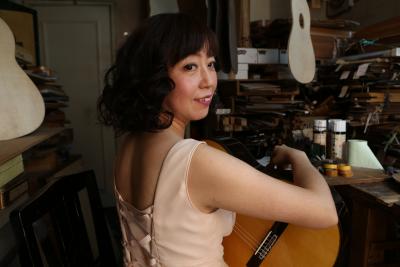 Biography
Born in Sapporo, Japan. Graduated from Hokkaido University.
Ms. Miyashita began playing at the age of seven.
In 2003, she received a Diploma de Merito from Academia Musicale Chigiana, Siena in Italy. 
She has attended many festivals in the past both in Europe and Asia, and has studied with many guitarists. Ones with the greatest influence have been S.Fukuda, O.Ghiglia, E.Fernandez, P.Steidl, and F.Cuenca.
In 1991, she won the 1st prize in the Classical Guitar Competition (Tokyo), and in 2002 the Andres Segovia International Competition (Spain) where she won the second prize. 
In her home city, she has received the Sapporo City Outstanding Artist Award when she was only 13 (youngest award winner).
At the 2002, International Guitar Seminar (Shizuoka) O.Ghiglia selected Ms. Miyashita as the outstanding student. In addition to her domestic concert schedule, she has given concerts throughout Europe, Italy, France, Spain, Germany, the Czech Republic and Turkey, more than 20 cities. 
In 2006, she performed in festivals in Paraguay ("Guitarra y Mujer"). 
She performed a guitar in reading drama by Hisashi Inoue in World P.E.N. forum. It has been continued to present again every year in New National Theatre Tokyo.
In 2010, she played in Torino international guitar festival hSix Waysh.
In 2011 she got award as a fine artist selected by Hokkaido bank, played Concierto de Aranjuez with Sapporo symphony orchestra in Kitara hall. 
In 2012, she gave concerts in U.S.A. and Thailand.
She is now instructor at Sapporo Otani University in the department of Music and a member of the Japan Federation of Guitarists.
CD/DVD