Samuel Couffignal 
France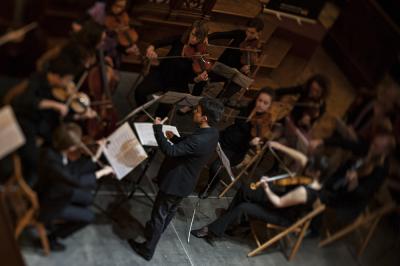 Biography
Born in 1991, Samuel Couffignal does his musical studies in differents conservatoires since the age of 17. He discovered the tremendous universe of conducting thank to a decisive meeting with the conductor Philippe Fournier at the age of 16 ; he studied the piano with Carine Zarifian and Philippe Barbey-Lallia.
Holder of the Diploma of Musical Studies in conducting in the classe of Nicolas Brochot and Laurent Goossaert, he has obtained the same grade in choir conducting in Béatrice Warcollier's class in the « Conservatoire à Rayonnement Régional de Paris ». He is laureate of the « Prodij scholarship » for his project « Meltin'Cordes », of which he has the artistic and musical direction.
In a perpetual thirst of research, he never stops discovering and discovering again the artwork whatever its time of writing. Thanks to Meltin'Cordes, he promotes the contemporary music and the music from the XXth century ; due to this way of thinking, he worked with differents composers such as Franck Vaudray, Annick Chartreux, Hélène Piris…
He was an active participant in differents masterclasses with Konstantinos Diminakis, Bernard Tétû, Georg Grün, Peter Hanke, Edward Caswell, Henry Challet… With the Choir of Notre Dame, the Choir of The Orchestre de Paris, Opéra de Baugé…
Passionate by pedagogy, Samuel Couffignal is regularly invited for keynotes on the links between Conducting and Management.
He was recently admitted in the University of Music and Performing Arts Vienna in the conducting courses.