Savarez strings ready to be tried out at the famous Studio Luna Rossa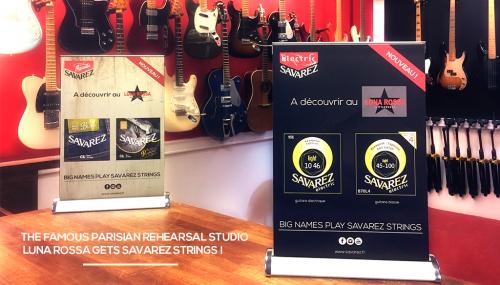 Since 1987, major names of French and International music come in the biggest rehearsal studio of Paris: the Studio Luna Rossa.
Savarez feels lucky to be part of this adventure! 
Hexagonal Explosion strings for electric guitar and Acoustic Bronze / Phosphore Bronze are currently available for test at the Studio.
That's a beautiful meet between Luna Rossa and Savarez that will allow musicians in rehearsal to discover Savarez products - rental guitars fitted with the French strings.
If you don't know Hexagonal Explosion strings yet , come discover them quickly! Guitarists are already crazy about it. Among the last members of Savarez family:
- Sébastien Chouard (Les Enfoirés, The Voice, Jean-Louis Aubert, Gérald De Palmas…)
- Franck Bedez (Florent Pagny, Liane Foly, Charles Aznavour, Les Vieilles Canailles...)
- Jean-Michel Panunzio (Nana Mouskouri, Juliette Greco, Roberto Alagna, Charles Trenet, Enricos Macias...)
- Emmanuel Rodier (Patrick Fiori, David Hallyday...)
- Gianluca Martino (Italian stage) 
- Baptiste Willaume
- Jeff Corallini
- Ivan Rougny (Mörglbl band with Christophe Godin)
And many others.
Tens of thousands bands came in one of the 30 rooms at disposal of artists, such as Jean-Louis Aubert, Mathieu Chedid, Texas, Sanseverino, Mademoiselle K, castings of The Voice show...
In addition of their main activity of rehearsal studio, you'll find an instrument renting service and a sale corner for accessories (strings...).
 
A huge thank you to the Luna Rossa's team for welcoming us and their trust. A new musical journey to write together.