SOICHI MURAJI
Classical Guitar
Japan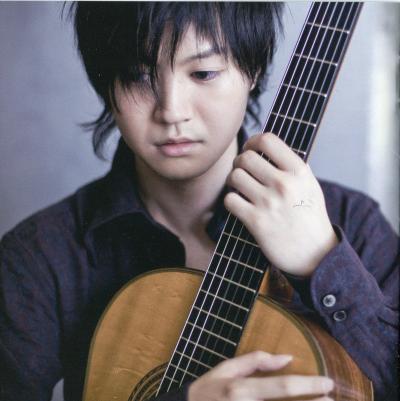 Biography
In 1999, Soichi began studying at the Walnut Hill School for the Arts with Eliot Fisk at the New England Conservatory. In addition, he studied with David Leisner at both the New England Conservatory and the Manhattan School of Music. He completed the year studying with David Starobin at the Manhattan School of Music.
In March 2002, Soichi won second place in the "Concerto Competition" in the state of Massachusetts; this free for all competition incorporated all classical musical instruments. The next month, Soichi displayed his extraordinary guitar skills in a New York City Chapel that honored the victims and those affected by the events of September 11, 2001.
Soichi graduated with top honors from the Walnut Hill School with a degree in music in 2003. The same month, he released his debut CD, "Chaconne," with Victor Entertainment. Later that year, he went to the College Conservatory of Music in New York City. He was also invited to Chicago to play at the 150th U.S.-Japan's anniversary amity treaty celebration, where he dazzled the audience as he performed "Concierto de Aranjuez." That year, Soichi also won second place for "Debut of the year" in "The MOSTLY CLASSIC MEMBERS AWARD of 2003" competition.
In 2004, Soichi released his second album, "Fuoco," including his most famed songs. The following year, he released his 3rd album, "New Sketch." In June 2006, his fourth album, "America" was released, and in May 2008, his fifth album "Dreams" was released. In 2007, Sochi released "Danza Brasilera," used on in-flight audio programs on airlines such as All Nippon Airways (ANA) and Japan Airlines (JAL). That summer, he played "Concierto de Aranjuez" with New Japan Philharmonic Orchestra (Conductor: Arumink) and Tokyo Symphony Orchestra (Conductor: Shunsuke Hori). In September 2011, his new Maxi Single "Kodama Sketch/Rainbow/ Wings to Fly" was released – based on one of the most famous song in Japan "Wings to Fly," originally composed by prominent melody maker Kunihiko Murai, Soichi arranged the piece for solo classical guitar.
In May 2008, Soichi graduated from the Manhattan School of Music and received the prestigious "Andreas Segovia Prize," which is only awarded to only top graduates. In June, he was appointed to be a soloist at the "Monte Carlo Philharmonic" with Conductor Tomomi Nishimoto's in the" New World Tour" at the Monaco and Suntory Hall.
In 2009, Soichi played "Concierto de Aranjuez" for a Japanese news show (NTV) on a segment called, "Late-night concert with Yomi-Kyo." In September 2010, he appeared on another Japanese television station (NHK) on a segment called, "Studio Park." That month, he also composed the opening track, "Kodama Sketch," for the Tekuteku Road trip and was invited to play at the Embassy of Japan in Washington D.C. for National Cherry Blossom festival.
Soichi has also won first place in many competitions, including Junior Guitar Competition (1993), Student Guitar Competition (1996), Classical Guitar Competition (1997), Spanish Guitar Competition (1998), and 41st Tokyo International Guitar Competition (1998).
CD/DVD