Steven Lebert
Guitar
France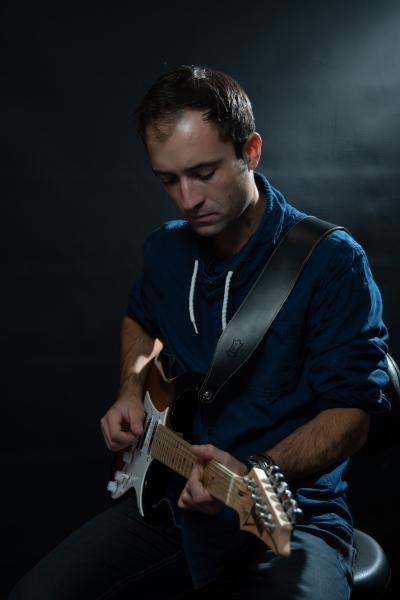 Biography
Blues Fusion guitarist Steven Lebert was born in 1989 and began playing guitar at the age of 9 in the Ibanez school. He will be introduced to the different techniques and will learn all the richness of this instrument. At 17, he joined a variety orchestra in which he made his first steps on the scene with nearly 120 dates throughout the west of France until his 23rd birthday. In parallel, he will join rock bands on Le Mans and various composition projects with recordings and concerts. Also passionate about Celtic sounds, in 2012 he will set up his first project as a composer in DADGAD and a pop duo. Wishing to take a new step in his career, perfect his apprenticeship and specialize in Blues, he will follow in 2013 and 2014 the courses of Zeb Heintz, a great name in slide blues guitar. He joined the Nancy M.A.I. (Music Academy International) in 2015 and graduated from this school with honours. 
Now living in Brittany (Finistère), he develops his musical projects as a composer within the Trio "Shades of Blue" with Blues-Funk-fusion influences at Robben Ford, an educational method and the direction of the Ibanez school in Quimper.
Holder of a professional degree in Management and Development of Musical Structures, Modern Music Sector, University of Maine in partnership with the Institut Technologique Européen des Métiers de la Musique (ITEMM), Le Mans (72).
Acoustic guitar
Electric guitar