Tal Hurwitz
Classical Guitar
Israel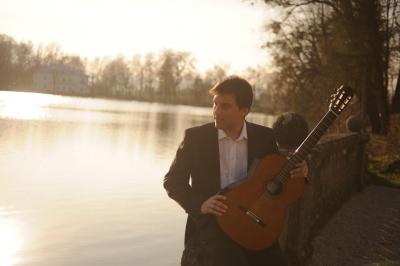 Biography
An exceptional classical guitarist and composer, Tal Hurwitz has garnered international acclaim in concerts and competitions around the world. Continuing in the grand classical tradition of the composer/performer, he is dedicated to furthering the technical and musical possibilities of the guitar.
Mr. Hurwitz holds two bachelors and a masters degree in music, obtained while studying under some of the worlds most renowned pedagogues first in Israel with Joseph Urshalmi and then in Europe with Costas Cotsiolis, Marco Tamayo and Carlo Marchione.
Growing up surrounded by all kinds of music, Mr. Hurwitz has always sought to elevate the classical guitar. Due to his reputation for technical mastery and artistic clarity he has been able to do just that; engaging audiences the world over with his striking interpretations. Mr. Hurwitz's constant drive to progress has lead to an extensive performance career across Europe, North America, South America and the far East. During the course of which he has appeared in the Moscow House of Music, the Großer Saal of the Mozarteum, the Jordan hall in Boston and the Sala de Espectáculos among others. He has played in festivals around the globe including at the Festival Hispanoamerica de guitarra (Mexico), the Petrer Guitar Festival (Spain), the Forum Guitar Wien (Austria), the Guitar Art Festival (Belgrade), the Internatinal Guitar Festival J.K Mertz (Slovakia) and the Essonne Guitar Festival (France). He has performed with such orchestras as the New Russian Symphony Orchestra and the Camerata Salzburg.
Additionally Mr. Hurwitz has won prizes as both a performer and composer in numerous international competitions including the Sinaia international guitar competition, Romania, the Thailand international guitar competition, the Naxos international guitar competition, the Concurso internacional de guitarra, Culiacan, the Sernancelhe International guitar competition, Portugal, the Internationaler Gitarrenwettbewerb Nürtingen, Germany, the Norba Caesarina international guitar competition, Caceres, Spain, the Asia international guitar competition, and the Boston guitar composition competition for his guitar sonata.
Mr. Hurwitz's compositional activities began when studying jazz performance at the Telma Yalin School of arts. Now published by Berben, his creative energies have lead him to write numerous works firmly grounded in the classical tradition while still remaining accessible and relevant to modern audiences. Convinced that the guitar's technical and expressive potential has yet to be completly explored, Mr. Hurwitz creates dazzling, intricate compositions for the guitar in a variety of styles.