Tengyue Zhang
Classical Guitar
China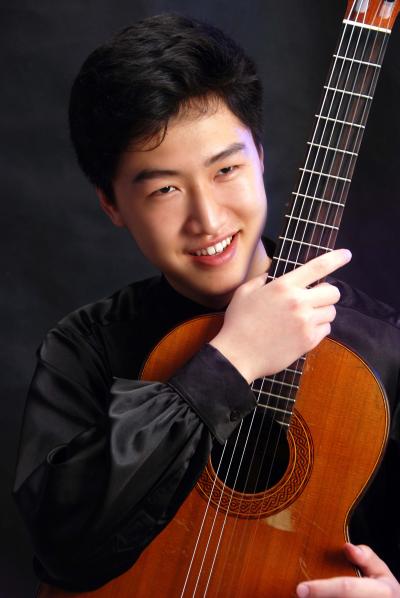 Biography
Classical Guitarist Tengyue (T.Y.) Zhang was called "Little John Williams" by Dale Kavanagh and Thomas Kirchhoff and boarded the German newspaper when he was eight years old.
Tengyue had hold recitals in many places including the Forum Gitarre Wien Festival in Vienna, the opening ceremony of the Guitar Art Festival in Belgrade, the NYPL Library for the Performing Arts' concert series in New York. He also made concert tours in seven cities in China. Tengyue will be performing in the New York's WQXR Greene Space with live video webcast and audio will be aired on WNYC and WQXR.
He will also be performing the Concerto de Aranjuez with the Allentown Symphony and a solo concert at the Muhlenberg College in Allentown Pennsylvania in 2018. As a prize of winning the GFA, Tengyue will have GFA Sponsored International Concert Tour, including approximately 50 concerts throughout the United States, Canada, Mexico, South America, Bosnia and Herzegovina (at the Sarajevo International Guitar Festival), the United Kingdom, and China. And Naxos CD Recording.
Tengyue was born in China. He began to study Classical Guitar at the age of 5 with his father. After studied with two of Professor Chen Zhi's students Yuanli Gao & Jiajiong Li, he was introduced to the world renowned Professor Chen Zhi at the age of 7. Zhang completed his middle & high school degree at The Music School Attached to The Central Conservatory of Music in Beijing under Professor Chen.
In year 2012, Tengyue was accepted by The Juilliard School Bachelors of Music degree with full scholarship. He is currently continuing his Masters of Music degree at The Juilliard School under the guidance of multi-Grammy Award Winner Professor Sharon Isbin.
CD/DVD
Tengyue has won many top prizes all over the world, includes:
2010, First prizes at the Sixth GFA International Guitar Competition Senior Division in the U.S.
2010, First prize at the Thirteenth INT. Guitar Youth Competition in Vienna, Austria.
2015, Third prize in the IV Parkening International Guitar Competition in the U.S.
2015, First prize at the IV Changsha International Guitar Competition Open division in China.
2016, First Prize at the 21st Schadt String Competition in the U.S.
2016, Third prize in the Guitar Masters in Poland.
2017, Tengyue Won the Rose Augustine Grand Prize at the XXXV International Concert Artis Competition at the Guitar Foundation of America.