Tony Ballester
Bass guitar
France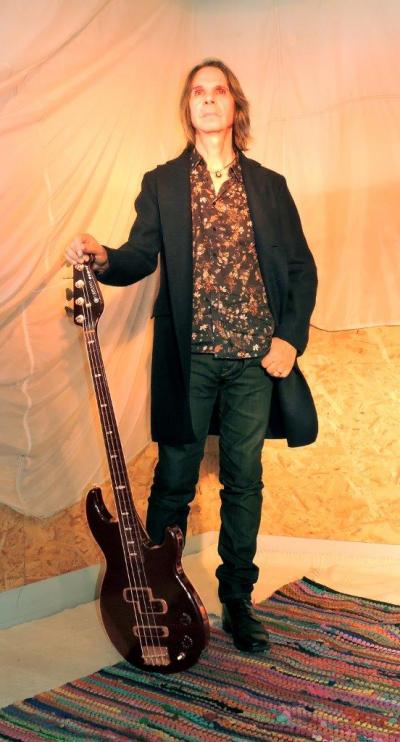 Biography
He tours the world and records numerous TV shows and albums with CHICO and The GYPSIES.
He recorded or played with it: Charles AZNAVOUR, Patrick FIORI, KENT, Yannick
NOAH. KHALED, SANSEVERINO, ENZO ENZO, Chimène BADI, Gilbert MONTAGNE Manuel MALOU, José EL FRANCÉS, Gérard LENORMAN, Jean Felix LALANNE, Joel DAYDE, Karim KACEL, Daniel GUICHARD, Mireille MATHIEU, CLARIKA, Nilda FERNANDEZ, Frédéric FRANCOIS, CARLOS, Jean Patrick CAPDEVIELLE, Alexis HK, Nancy HOLLOWAY, Groupe TAI-PHONG, Yvan DAUTIN, ANTOINE, LIO.......
JAZZ : Khalil CHAHINE, Kenny CLARKE, Jean-Pierre COMO, Louis WINSBERG,
Benny BAYLEY, Roger GUERIN, Michel DEVILLERS, Sylvain LUC, Jean-Lou
LONGNON, Carol WELSMAN, Pierre Olivier GOVIN, Jean-Claude FOHRENBACH,
Joe NEWMAN, Benny POWEL, Denis LELOUP, Harold DANKO, Jacques
THOLLOT, Eric BARRET.
STAGE REFERENCES : ROYAL THEATRE LONDON, FÊTE DE L'HUMANITÉ, PARIS ZENITH, PARIS OLYMPIA, FRANCOFOLIES, RONNIE SCOTT LONDON, BLUE NOTE TOKYO, BLUE NOTE NAGOYA, PALEO FESTIVAL, WOMADE FESTIVAL, SOPOT FESTIVAL, FESTIVAL ORANGE JUICE MUMBAI, ROCKPOP BRATISLAVA, FESTIVAL D'AJACCIO, FESTIVAL DU MARAIS, FESTIVAL INTERNATIONAL D'AMIENS, NEW MORNING PARIS, etc........
SELECTIVE DISCOGRAPHY:
CHICO & THE GYPSIES: - & FRIENDS (Sony Music) 2012 -
CHICO & THE GYPSIES CHARLES AZNAVOUR (Sony Music) 2011;
DVD "Olympia Concert Live 2009";
CD: "Freedom" 2005; CD" Vagabundo" 1996; CD " Nomade " 2000 (EMI).
JEHAN "Ma vie en blues" with Jean Jacques Milteau (Tacet).
ROMAN DIDIER "From afar we thought we were geese" (Harmonia Mundi).
KARIM KACEL sings Reggiani" and "Une autre" (Zanzibar)
ENZO ENZO "Songs of a Mother" (Naïve).
Jean Felix LALANNE "Around the guitar".
JOSE EL FRANCÉS "Alma" with VICENTE AMIGO, MINO CINELU (BMG),
BASS INFLUENCES Vol 2 (XII bis Records)
Didier MAKAGA "Secret Pleasure" with Sylvain LUC (Columbia)
Manuel MALOU : CD "Corazon caliente" (WEA) - CD BO "Gazon maudit" (Cursed lawn)
THE decisive meeting with Alexandra CHERRINGTON, revealed him as a composer and producer, he produced their album "Free as the Wind".
Bass guitar
Acoustic guitar
Electric guitar