Tora Dahle Aagård
Electric guitar
Norway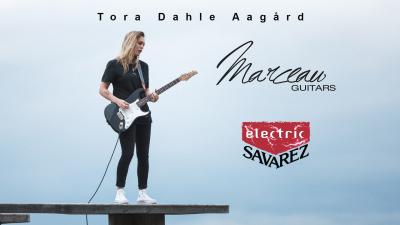 Biography
TORA is a blues inspired pop/rock band fronted by Norway's new female guitar hero Tora Dahle Aagård, who has earned herself extensive recognition and popularity due to her playful virtuosity, raw energy and unique stage presence. Her popular Instagram account is followed by 130.000 guitar aficionados from all over the world, including Hollywood legend Alex Baldwin, who frequently praises her talent by sharing her videos.
TORA WILL BECOME NORWAY'S BIGGEST GUITAR EXPORT OF HER GENERATION. – AMUND MAARUD
TORA's first eponymously titled album was released in 2019 and featured pop/rock music with deep roots in blues and soul. It was reviewed as "a promising debut by a new female guitar hero" by the Norwegian newspaper Dagbladet. Their next album GIRLS was released 10th September and featured exciting new collaborations with acclaimed musicians Joey Landreth and drummer Aaron Sterling (John Mayer). As well as catchy pop songs such as "Desire" and "Money", the album includes stripped-down, honest songs such as "Lately".
2019 has been an eventful year for Tora Dahle Aagård. Despite her relatively young age (26), the talented guitarist has performed in London's Royal Albert Hall, played with the likes of Paul Gilbert (Mr Big) and Jennifer Batten (Michael Jackson), as well as Aaron Sterling (John Mayer). She has become International Ambassador for Marceau Guitars with a very own signature model designed for her. In October 2020, she shared the main stage of the world's biggest virtual guitar festival Guitar.com LIVE with renowned names such as Joe Bonamassa, Carlos Santana, St Vincent and John McLaughlin.
 TORA was initially set for their first UK tour in 2020 but was postponed due to the Covid-19 outbreak.
TORA was formed in 2011. Their discography includes 2 EPs – of which their second release, Change of Scenery (2016), reached the top of iTunes' album charts. Several of their tracks are frequently played on Norwegian radio stations. They have performed on many of Norway's biggest festivals and the increasing popularity opens the door to stages all over the world.
The band consists of Tora Dahle Aagård (guitar and lead vocals), Isak Seltveit (bass guitar), Guri Tranås (backing vocals), Andreas Dahle Aagård (guitar) and Magnus Galguften (drums). The songs are written by Tora herself, some in collaboration with Andreas Dahle Aagård.