Two European guitarists at Classical Guitar Festival of Sydney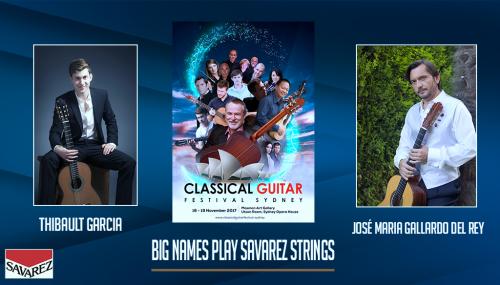 The young French Thibaut Garcia and the Spanish José Maria Gallardo Del Rey meet in Australia, November 18th and 19th 2017 to participate to the Classical Guitar Festival Sydney.
From today to Sunday, 8 concerts, worshops, talks, exhibitions and Masterclasses are held at the Mosman Art Gallery and the Sydney Opera House.
This festival is built on classical guitar's history and technics. It's a wonderful opportunity for students and enthusiasts to try out a new or old instrument, or to browse some merchandise. Guitar players will have an opportunity to perform in an "open-mic" session in a public space that will be friendly and supportive.
A dear friend we've followed up since his beginnings, a phenomenal musician and a great personality. Thibaut Garcia is a Franco-Spanish 21 years old guitarist. The first prize GFA won in 2015 allowed him to do 50 shows for 2016-2017 season (United States, Canada, Russia, China), a recital at Carnegie Hall in New York, a record with Naxos label and a second album produced by GHA label released in 2016. Thibaut Garcia plays Alliance HT Classic strings.
An other beloved friend of old, an incredible musician and a great composer.  Since his début in Seville at the age of nine, José Maria Gallardo Del Rey has achieved universal public and critical acclaim. As a mature artist with a profound affinity for all aspects of the guitar, he has become a leading authority on the instrument among conductors and players alike, and a soloist in great demand by orchestras throughout the world. Last summer he showed his work Altamira, specialy created for a concert. José Maria Gallardo Del Rey plays Alliance Cantiga strings.