VALERIE DUCHATEAU
Classical Guitar
France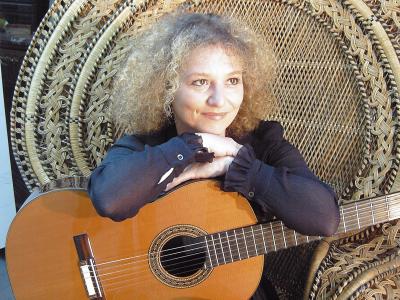 Biography
At nine years old, her first teacher, Angel Iglesias, took her to Barcelona where she plays the guitar Paganini or Miguel Llobet. At 11, Alexander Lagoya takes her under his wing. Thus begins 12 years of collaboration. She enters the National Conservatory of Paris where she won first prize before winning the US where she receives the first Addario Foundation Award in New York.
Her first album "America", was recorded in Nashville in 1995, under the direction of Thom Bresh, son of the famous Merle Merle Travis.
In 1998, Valerie Duchateau starts the composition and the music for several television shows including "Envoyé Spécial".
After a stint as first soloist at the Paris Opera, she makes a tribute to Barbara ("La Guitare Chante Barbara") and Django Reinhardt ("Parfum de Django") while introducing "Les Chefs d'oeuvre de la Guitare Classique" which now includes six volumes sold over 60,000 copies.
Pioneering the launch of her albums on legal download plateforms (Deezer, Spotify, MusicMe ...) she gets millions shares through these channels.
Always so curious, she continues her experience by launching a magazine devoted to the acoustic guitar (Guitarist Acoustic) and then takes the lead of the magazine Guitare Classique magazine.
Today and 13 albums later, Valerie Duchateau is an accomplished artist as well in her pedagogical approach as in her interpretation, her arrangements or compositions in the field of classical guitar.
CD/DVD