William Cortier
France
Electric - Acoustic guitar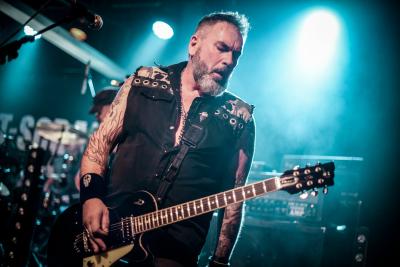 Biography
In the late 70s, William learnt about hard rock genre for the very first time through bands such as Judas Priest, Saxon, Motorhead, AC/DC, Iron Maiden, Def Leppard and later from the NWBHM (New Wave of British Heavy Metal). But the out of control urge to play clearly gained him because of a Judas Priest live performance. From then, he obviously had to learn how to play guitar.
At the age of 15, William bought his first instrument : a second hand Giannini classic with a curved neck distorted by the excessive stress of an improper electric set of strings.
Then with that quite weird electric sound, he began the enormous task of dessecting note by note the entire Judas Priest « British Steel » album. This would be his own method for training « powerchord » technique.
After 40 years investigating stages in many bands, William further developped his proper « riff skill ». A long but formative period over local rock venues that would lead him at last to greater live performances.
What was once an old teenage dream, finally came true in 2009 by joining Gut-Scrapers : recording in studio, releasing albums, sharing stages with bands such The Lord Of Altamont, M-Pire Of Evil, Crucified Barbara, Gotthard or opening for Scorpions in 2017 in the mythic Nîmes arena. 
Since 2016, William is endorsed by the german brand Duesenberg guitars.
His constant concern for efficient riffs and his persistant search for songs totally meant to be played on stage never stopped since the … Giannini era !
CD/DVD
Discography :
2013 Gut-Scrapers « Gimme Your Soul » (Brennus Music)
2015 Gut-Scrapers « Cat on The Roof » - EP
2017 Gut-Scrapers « Getting Through » (Brennus Music)        
Acoustic guitar
Electric guitar