Xavier Bozetto
Jazz Guitar / 7 string guitar 
Hybrid Bass Guitar 
France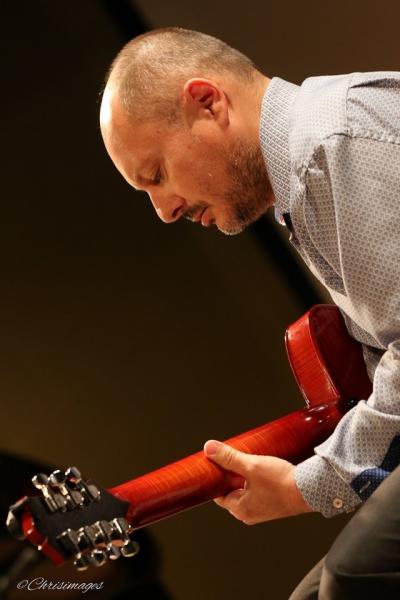 Biography
Xavier BOZETTO started playing guitar at the age of 13, and entered the AIMRA in 1993. He joined the Conservatoire de Région de LYON in 1994 in the class of Jean-Louis ALMOSNINO and obtained the gold medal and the DEM in Jazz guitar in 1998. He directed the MLA for 12 years and obtained the State Diploma of Jazz Teacher in 2018.
 
On the stage, he joins in 2010 the Be-Bop pianist Jean-Charles DEMICHEL, with whom he records 2 albums " Live au Second Souffle " in 2015, then " What a Difference " in 2018 at the Studios La Buissone with the singer Nathalie SOLES.
He founded in 2012 the group SOMETIME AGO with Christophe METRA on trumpet and Stéphane RIVERO on double bass, trio with which he will revisit the repertoire "Jazz and Cinema" and within which he presents his own compositions.
 
From 2017 to 2020 he plays regularly at the Jazz club BÉMOL 5 and animates once a month during this period the "Cordes et Jam by SAVAREZ" with the double bass player Stéphane RIVERO.
In 2019, he founded the trio VILLEURBANNE SWING ACADEMY with the vibraphonist Armen PARONIKYAN and the Brazilian double bassist Marcel BOTTARO.
 
He plays since 2017 a 7-string archtop guitar Gérard DEFURNE, and since 2020 a hybrid bass guitar, including 3 bass strings and 4 guitar strings on the same neck, made by the luthier Paulo OLIVEIRA.
He participates in a large number of duets with this instrument, notably with the singers Manon LARDANCHET, Anne-Sophie OZANNE, Andrea MILLER (US), the flutist Michel LAVIGNOLLE, the saxophonists Antoine BOST, Stéphane
TEYSSIER and performs regularly as a soloist.
 
He has also played with Karen SHARP (GB), Dany DORIZ, Roland GUERIN (US), Michel PEREZ, Cesar ALLAN (BR), Jane COCKELL (GB), John DAY (GB), Gérard CURBILLON, Pepe HARO (SP), Claude TEZZA, Jean-Louis ALMOSNINO...
Classical Guitar
Electric guitar
Jazz Guitar