Yannick Deborne
Guitar
France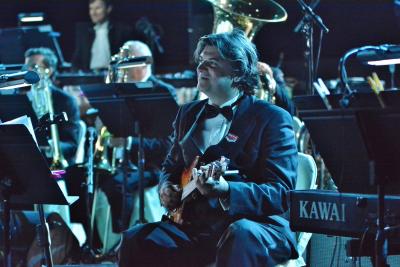 Biography
Born in Avignon, France. Bachelor in Communication (Aix Marseille University) Studied guitar from age 11 with several classical and jazz teachers for a few years in the south of France, and then moved to Paris to enter CIM school of music, where he studied harmony and improvisation.
He always had an interest in music writing, and therefore later enrolled in Berklee courses (Boston)to learn orchestration and film music. Guitars, mandolin, banjo, bouzouki, ukulele, backing vocals. Playing in a variety of genres and styles, he travels the world, working on stages and studios with international pop legends Nana Mouskouri and Charles Aznavour.
When in Paris, he's been working on numerous big name musicals :« Zorro », «Mamma Mia », «Sister Act», « Dance of the Vampires», «Cats», «Grease », « Chicago », « Ghost » «The 3 penny opera» « 42nd Street » Special highlights include performances with violin virtuoso Nemanja Radulovic, with the « Un violon sur le sable » symphonic orchestra.
One can also listen to his music on documentaries airing on French National Broadcast (France Télévision).
Acoustic guitar
Classical Guitar
Electric guitar