Yannick Deborne
Guitar
France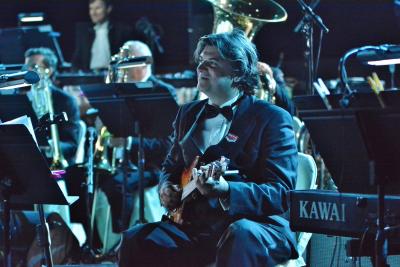 Biography
Yannick DEBORNE studied guitar from the age of 11 with Jean Paul Florens, Philippe Petrucciani, Gilles Renne, then harmony and improvisation (CIM. Paris), as well as arrangement, orchestration, writing and film music (Berklee. Boston).
Guitars, mandolin, banjo, bouzouki, ukulele, singing, Oud. Variety musician, in the noble sense of the term, he leads a career where his versatility is highly appreciated. He accompanies artists on stage and/or in the studio, in France and abroad (Charles Aznavour, Nana Mouskouri, Hélène Segara, Herbert Léonard, Paul Mauriat, etc.).
He frequently works in the field of musical theatre in Paris:
Théatre Mogador: "Zorro", "Mamma Mia", "Sister Act", "Le bal des Vampires", "Cats", "Grease", "Chicago", and "Ghost
Comédie Française: "l'opéra de 4 sous", "la ballade deSouchon
Théâtre du Châtelet: "42nd Street", "L'homme de La Mancha
He has been seen in the orchestra of "Violon sur le sable" in Royan, alongside the violinist Nemanja Radulovic, Christophe Willem and Yvan Cassar, or in concerts and radio broadcasts and film concerts with the Orchestre National de Radio-France and the Garde Républicaine.
His compositions can be heard on various documentaries (France 2, France 3), and short films.
Acoustic guitar
Classical Guitar
Electric guitar