Yvan Guillevic 
Electric guitar
France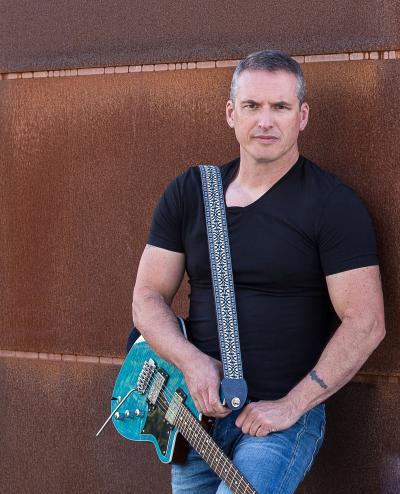 Biography
A guitarist who has become a must in France for many years. He has been touring the French stages for nearly 25 years with his own compositions or in the past with his various tributes to Pink Floyd or Gary Moore. Leader of Heart Line (2 albums), PYG (2 albums), Yvan Guillevic & Friends (1 album), co-leader with Anne Sorgues of the YGAS project (2 albums), he multiplies projects and albums in several styles, whether it is AOR/Rock Melodic, progressive Rock, Blues, Gospel, Soul or Folk. He is featured on the compilations "Les Guitares Du Coeur" and "Guitar Addictive II" as well as on numerous albums as a session man.
A renowned teacher, he has had his own video section in the magazine Guitare Xtreme for 5 years, and gives masterclasses throughout France. He is also a member of the cast of the four prestigious event albums "United Guitars" Volume 1,2,3 and 4.
In 2021 Yvan released "Back In The Game" the first album of his new Melodic Rock / AOR oriented project, called HEART LINE, signed on the German label Pride & Joy Music. The album has received an enthusiastic reception from the world's specialist press. The second album will be released in late 2023. Yvan is also a demonstrator for Kelt Amplification amps, having designed with Thierry Labrouze his signature model, the YG-MAX.
Selective discography:
PYG : " End of the world " (Brennus) 2011/ " We live, we die " (Coop Breizh) 2013
Yvan Guillevic & Friends : " Pink Floyd Acoustic " (Show Me Productions) 2015
YGAS : " Do it your way " (Coop Breizh) 2017 / " Better days " (LMP) 2019
United Guitars Vol 1: "Rainy Day In Brooklyn" feat Fred Chapellier / Judge Fredd 2019
United Guitars Vol II : " Shining Superstar " feat Michaal Benjelloun / Swan Vaude 2020
United Guitars Vol III : " Surrounded by Darkness " feat George Lynch/ Ludo Egraz 2021
United Guitars Vol IV : Guest on tracks by Tanguy Kerleroux and Anouck André 2022
Heart Line : " Back In The Game " Pride & Joy Music (2021)