ARIEL ASSELBORN
Classical and folk Guitar
Argentina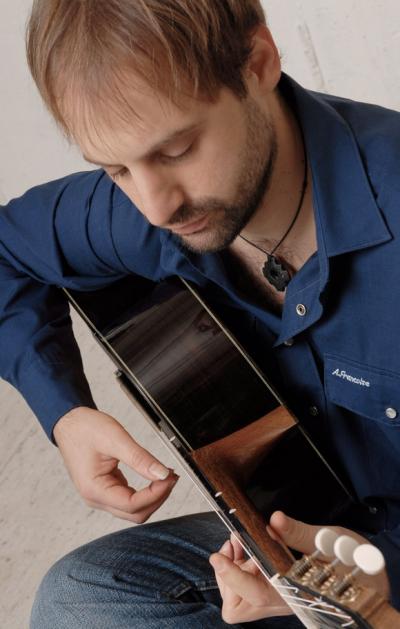 Biography
During his time as a member of the folk group "Nuevo Trio Argentino" they reached the final of the 1997 Cosquin Festival playing his song "Lairara," and in 1998 Ariel won national awards in the categories of "Male Folklore Vocalist" and "Instrumental Music" at the Festival de Baradero. From 1999 to 2002, he was a member of Andean music group "Los Laikas" with whom he toured in Japan (2000 and 2001) and recorded two albums.
He has made his home in Japan since 2003, working as a guitarist, charangist, composer, singer and songwriter. He has released two solo albums, "Una flor de vez en cuando" and "Canto subterráneo," consisting mainly of his original compositions and works written in collaboration with the poet Reinaldo J. Brignone. Both albums have enjoyed critical acclaim from the Japanese music press, with reviews in Record Geijutsu, CD Journal and other magazines.
In 2006, Ariel made his first appearance on Japanese national television (NHK-BS). Ariel has composed music for classical guitar players such as Gentaro Takada ("Suit de mi jardín") and Yasuji Ohagi ("El viejo Sabio" and "Camino del viento"). Ohagi's album "Camino del viento" was released by Victor Entertainment Japan in 2009.
With a growing reputation for his solo performances and other musical projects, Ariel's active schedule takes him all over Japan to perform concerts and to give cultural lectures.
CD/DVD