BORIS GAQUERE
Classical Guitar
Belgium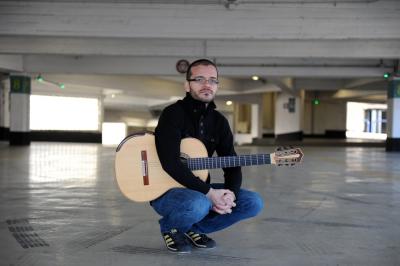 Biography
Boris Gaquere has studied with Sérgio and Odair Assad. Boris followed master-classes with Leo Brouwer, Roland Dyens, David Russell, Roberto Aussel, Costas Cotsiolis and Paulo Bellitani in the course of his studies. Boris' compositions are currently published by Les Productions d'Oz (Canada), GSP (California, USA) and Editions Lemoine (Paris, France). Columbia Music Entertainment, Ltd. Japan, commissioned Boris to compose Tabi, as recorded and performed by Shin-Ichi Fukuda in 2003. Other Japanese guitarists have recorded Boris' music : Yasuji Ohagi and Tomonori Arai.
Boris Gaquere pursues an international career with concerts in all major cities of Europe. He regularly performs both in North and South America as well as Taiwan and Japan. Boris regularly appears in numerous radio and television shows.
Xeque-Mate, Boris first solo album for VGo Recordings was recorded in San Francisco in 2003. Boris is privileged to duet with Odair Assad on the album's title track; one of Boris' compositions for this CD. 
Carpe Diem, released with some pride in 2005, is Boris' second album for VGo Recordings. The album focuses on music from the Baroque period.
Tempo Feliz, an album recorded with Brazilian master percussionist Renato Martins, is the fruit of his labour which was released in the course of 2006 with Mogno Music. 
In 2011, he releasedan album with the quartet Caçamba, a project of what could be called Brazilian instrumental jazz music.
Two years later, Boris' new quartet Comboio recorded a very original album, as the line-up includes an accordion, bandoneon, double-bass, percussions and guitar. The tracks of this CD were arranged by the members of the band (Gismonti, Pascoal, Mays, Gubitsch, Guinga...).
In  2013, he was comissioned to compose a double concerto for accordion, guitar and string orchestra for the 20th anniversary of the Rencontres Guitare et Patrimoine en Ardenne (Sedan Guitar Festival, France).
CD/DVD