DUO VARNERIN
Classical guitar,
Switzerland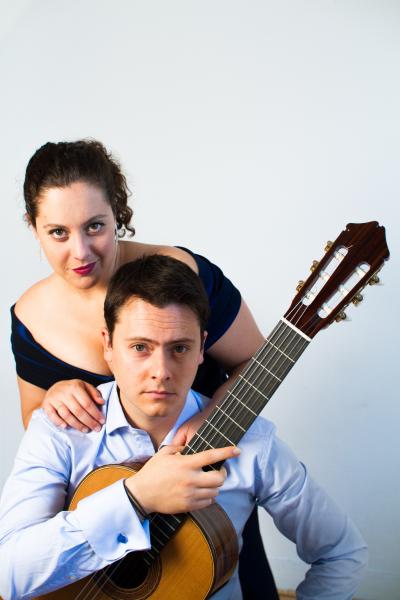 Biography
The « Varnerin Duo » is, first and foremost, a wise mixture of a fond family history, as well as a delicate musical encounter. The repertoire of Stéphanie, the soprano and Mathieu, the guitarist is almost entirely comprised by pieces adapted by Mathieu Varnerin. Their concerts revolve around twentieth century French music and they are invited in the biggest European festivals (Radio France's tour, Ateneo of Madrid, Academia monte regalis of Turin...). They were also guests of France musique and France culture radios and won 3rd European prize of chamber music in Paris.
Mathieu Varnerin received his first awards in the Nice conservatory in the guitar class of Tristan Manoukina, where he was awarded the first guitar and chamber music award. Later, upon reception of his Diploma on Musical Studies, he left for Paris to join the guitar class of Judicaël Perroy to perfect his technique.
It was finally in Switzerland, within the guitar class of Dusan Bogdanovic, where he concluded his academic instruction through the reception of a Master's Degree in specialized interpretation and a second Master's Degree in Pedagogy. At the same time, he received a certificate for advanced studies in Kodály pedagogy from the Kodály institute of the Franz Liszt Music Academy in Budapest.
On stage, Mathieu Varnerin was invited as a solist by the chamber Orchestra of St Raphaël in 2008, and also by Radio France in 2016. He has entirely created the solist guitar part for a Tic-Tac Rousseau opera of J-M. Curti in Geneva.
Mathieu Varnerin's transcriptions are published by Oz productions, Quebec.
Stéphanie Varnerin got the First Prize of Froville's International Baroque Song Competition and the audience prize, won the first award to excellence in the Leopoldo Bellan International Singing Competition (Paris). She was also winner of prizes for productions she took part in: l'Orphée d'Or in 2010 for The Bald Singer in which she plays Mrs Martin, and the Arte Live Web audience prize for The Turn of the Screw (Szeged and Isantbul's Operas) in which she plays The Governess. Stéphanie Varnerin studied at the Sulmona Ateneo Internazionalle della Lyrica (Italy) before entering the CRR of Saint-Maur. She got there a DEM and an Improvement Cycle. She entered Geneva's Studio-Opera which allowed her to stand up for her wide repertoire, on stage. In February 2017 her first solist CD has been released with Astree ensemble (Academia Montis Regalis), devoted to exclusive Cantatas for soprano of C.F. Cesarini on Aparté label.