Fabrice Dutour
Electric guitar
France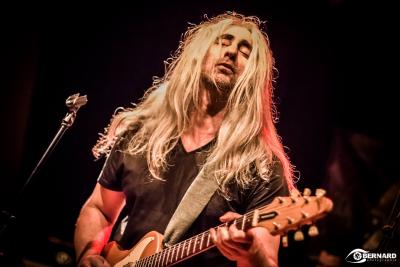 Biography
Fabrice Dutour started playing guitar at the age of 13, rocked by groups such as Téléphone and ACDC. After obtaining a degree in musicology, he began his professional life by giving guitar lessons in different structures. He also plays with New Walking Blues, a Blues Rock band that will perform nearly 200 concerts in its three years of existence and will share the stage with artists such as Luther Allison, Patrick Verbeke, Bill Thomas, Andy J Forest and Bernard Allison.
Curious and bulimic, he then became involved in various genres: Funk, Acid Jazz, Celtic Music, before returning to his first love in the early 2000s by joining the group Dyslesia. Ten years of adventure followed, during which three albums (Who dares wins, Years of secret, In veins hearts and minds, of which he wrote most of the compositions), as well as a DVD (Story and live), were published. Several French, European and festival tours will also be organized, with Symphony X, Rhapsody of Fire, Demons and Wizards, Iron Savior, Shaman, Firewind and others.      
He has been involved since 2012 in the group Back Roads and has composed all of the two albums released since then (Back Roads, II). The band had the opportunity to share the stage with Johnny Gallagher, Myrath, The Dead Daisies, Eddie and the Hot Rods, Little Bob Blues Bastard, Nanette Workman, Marco Mendoza Trio, or Band of Friends and is preparing a new release for 2020.
He also currently plays with the Mégaphone tribute band, Hors Saison and Sons of Snake.
Since 2015, he has been a regular contributor to Guitare Xtreme magazine and participates in the first album of the United Guitars project, which is scheduled for release in December 2019.