RAPHAËL FEUILLATRE
Classical Guitar
France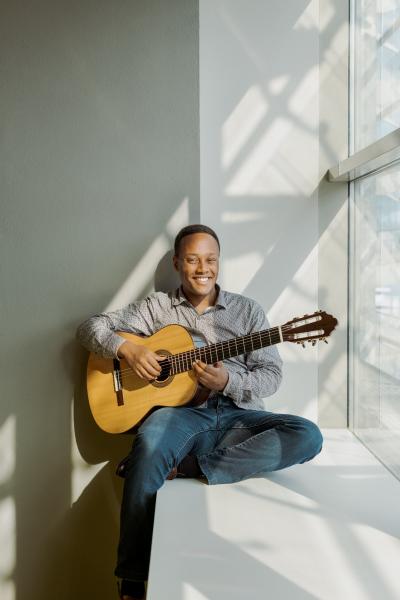 Biography
Not a speck of museum dust rises when Raphaël Feuillâtre performs music from the distant past. The 26-year-old French classical guitarist, whose repertoire embraces everything from Johann Sebastian Bach and Rameau to contemporary compositions by Roland Dyens and Sérgio Assad, possesses the technical mastery and creative vision required to make works from all periods sound as if they were written yesterday – alive, heartfelt, filled with colour. Hailed by Guitar Salon International as "one of the most exciting classical guitarists of his generation", he makes his instrument sing with a rare blend of clarity and grace.
Feuillâtre made his international breakthrough in 2018 as winner of the prestigious Guitar Foundation of America (GFA) International Concert Artist Competition. He had already been tipped as a rising star in Europe following his victory at the 2017 José Tomás Villa de Petrer International Guitar Competition in Valencia and earlier prize-winning competition performances elsewhere in Spain as well as in France, Portugal and the Czech Republic. His progress around the competition circuit introduced him to many outstanding players and teachers; his José Tomás and GFA prizes, meanwhile, included opportunities for him to record solo recital albums under studio conditions and embark on concert tours of Europe, Brazil, Argentina, the US and Canada. His career was given a further boost when he was honoured by being selected as one of French performing rights association ADAMI's "classical discoveries" of 2021.
Deutsche Grammophon's Senior Director Classical, Artists & Repertoire, Angelika Meissner, discovered a video of Feuillâtre's GFA Competition performances in September 2020 while searching online for exceptional young musicians. She was so impressed by his charismatic artistry that she invited him to record for the Yellow Label. He signed an exclusive partnership agreement with DG in September 2022. His debut album will feature arrangements and transcriptions of works by Bach, Rameau and others, reflecting his profound affinity for Baroque music.
Critics have praised the versatility and sensitivity of Feuillâtre's musicianship. He has also delighted reviewers and audiences alike with the singing quality of his playing. The jaw-dropping precision of his technique is allied to a profound feeling for melodic line, qualities that combine to give the impression that the instrument's sound is somehow sustained by the player's breath.
"My goal is always to allow the guitar to sing," he observes. "So many things in music start with song. The guitar is an intermediary between me and the audience that lets me sing and and convey emotion. I get so immersed in the soundworld of whatever I'm playing that I totally forget about my instrument."
Raphaël Feuillâtre was born in 1996 in Djibouti, on the northeastern coast of Africa, and raised in the small city of Cholet in western France. Although his parents were not musicians, they recognised and encouraged the boy's clear gift for music after he was given a plastic guitar at the age of seven.
Two years later, Raphaël enrolled at the Cholet Conservatoire, where he received his first guitar lessons from Hacène Addadi. "Hacène sparked a passion in me for the classical guitar, cultivated that passion, and introduced me to the guitar repertoire," he recalls. The learning process continued during Feuillâtre's high-school years in Nantes, where he received invaluable lessons from Michel Grizard at the Conservatoire de Nantes.
From 2015 to 2020 he pursued advanced studies at the Conservatoire national supérieur de musique in Paris, where his teachers included Roland Dyens and Tristan Manoukian. He has also worked for a number of years with Judicaël Perroy. "I've learned from many people along the way," says Feuillâtre, himself now a dedicated teacher as well as performer. "But Judicaël helped me prepare for the international competitions I took part in and guided me as I embarked on my career. I'm especially grateful for his mentorship."