RAYMOND COUSTE
Classic guitar and lute
France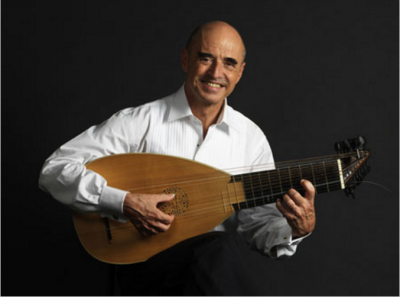 Biography
Described by the New York Times as a "remarkably versatile" musician, French guitarist and lutenist Raymond Cousté has a vast performing experience, having appeared in over 100 countries worldwide as a soloist and member of various ensembles as well as in theatre productions. Playing mainly twentieth-century music on the guitar, Raymond Cousté uses different lutes for the interpretation of Renaissance and Baroque repertoire. His many international appearances include two invitations to tour the People's Republic of China, and frequent radio and television broadcasts in France, Italy, the USA, Canada, Japan, China, Brazil, Ecuador, Mexico and Australia, to name a few..
Born in Paris, Raymond spent much of his childhood abroad where his interest in music began at an early age. After studying the guitar with Ramon Cueto at the Académie de Guitare de Paris, he obtained a degree in solid-state physics from France's prestigious Ecole Supérieure d'Electricité. He then continued his musical studies at the Conservatoire National Supérieur de Musique de Paris where he studied with Alexandre Lagoya, receiving a Premier Prix (diploma with honours) in 1972. For five consecutive summers he attended the master classes of Andrès Segovia and José Tomàs in Santiago de Compostela, Spain, winning first prize in the José Ramírez International Competition there in 1973. He has been a prizewinner at a number of other international guitar competitions, including Radio France (Paris), Maria Canals (Barcelona) and the International Guitar Festival of Munich. He collaborated for many years with the highly popular early music ensemble Ars Antiqua de Paris with whom he made several recordings. His solo CD of lute works by John Dowland received enthusiastic reviews, followed by an equally successful CD of Latin American music for one and two guitars entitled Intermedio, and an all-duo album released in 2011.
Raymond Cousté holds France's national Professor of Music certificate (Certificat d'Aptitude) and teaches in Paris at the Courbevoie Municipal Conservatory of Music.
CD/DVD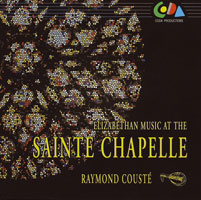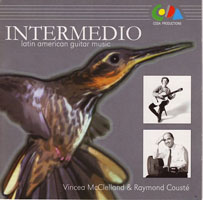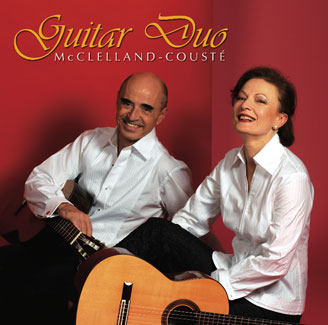 With Vincea McClelland.