ROBERTO AUSSEL
Classical Guitar
France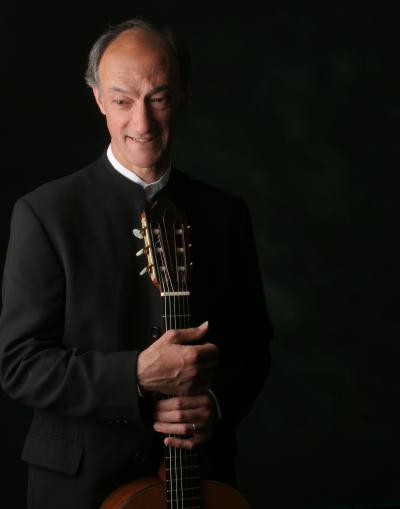 Biography
Roberto Aussel was awarded first prizes in some of the most prestigious world competitions: International Guitar Competition of Radio France, Porto Alegre (Brazil) and Alirio Diaz de Caracas (Venezuela).
He currently teaches at the Musikhochschule in Cologne in Germany and leads from frontcet high level education with a very active career that took him around the world each year.
He performs regularly in recitals in many major cities in Europe, Latin America, Japan, China and the United States.
He also played with the New Philharmonic Orchestra of Radio France, Orchestre Colonne de Paris, the Orchestre National de Lyon, Orchestra of the BBC in London, the Philharmonic of Buenos Aires ...
In 1981 Astor Piazzolla wrote for him dedicate his famous "Five Pieces for Guitar", his first compositions for the instrument.
Following on from the stage and teaching, Roberto Aussel runs since 1983 a collection of guitar music Editions Henry Lemoine.
In 1999 the Konex Foundation of Buenos Aires (Argentina) presented him with the prestigious "Platinum Konex prize" that rewards its work over the past decade.
His latest recording was released in May 2008. It is a tribute to the famous guitarist and Argentine poet Atahualpa Yupanqui.
Since 2005, Roberto Aussel Nantes assumes the artistic direction of "International week of the guitar."
CD/DVD