SIMON SCHEMBRI
Classical Guitar
France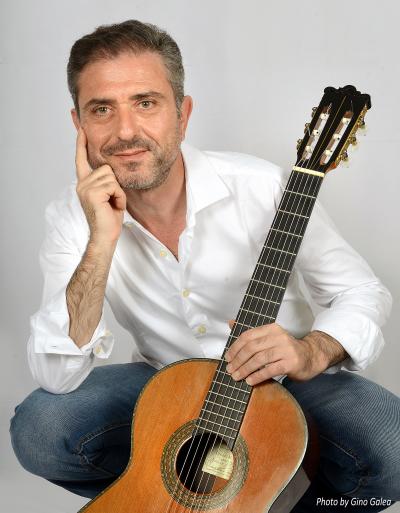 Biography
Simon Schembri studied guitar at the age of six. At thirteen, he obtained a brilliant Bachelor's degree from the Royal Schools of Music in London, and then moved to Paris to complete his studies with Alexandre Lagoya. He then received the first prize unanimously at the Conservatoire National Supérieur de Musique de Paris.
Simon Schembri is a laureate of the Guitar Foundation of America and the American Young Concerts Artists Foundation.
Simon Schembri has performed in France in many festivals (Flaneries Musicales de reims, Saint Germer de Fly, Festival Méditerranéen, Le Touquet, Musique en Albret, Bourg Madame, Pierrefonds, Château de Lourmarin et de Ratilly, Villesalem, Journées lyriques de Chartres, Orchestre de Besançon...) but also in Italy, Germany, Poland, Turkey, England, Malta.
Among its privileged partners are the Debussy, Parisii and Arpeggione Quartets, flutist Philippe Bernold, harpist Christine Icart, soprano Alexia Cousin.
Director of the first classical music festival on the island of Malta, he received the Malta Music Award and media support for this event: France 2 produced a special programme of "Musiques au Cœur" hosted by Eve Ruggieri. Frédéric Lodéon, for his part, illustrated it on the airwaves of France Inter among the major instrumental soloists of the early 21st century. In July 2003, France Musique invited him for a live broadcast.
Simon Schembri was also the dedicatee of the first work for guitar by Jacques Chailley, composer and historian.
Passionate about the development of the instrument, Simon Schembri has undertaken with Ignacio M. Rozas, a famous Madrid luthier, a real research project on improving the sound qualities of the guitar.
CD/DVD