USE OF NAIL KIT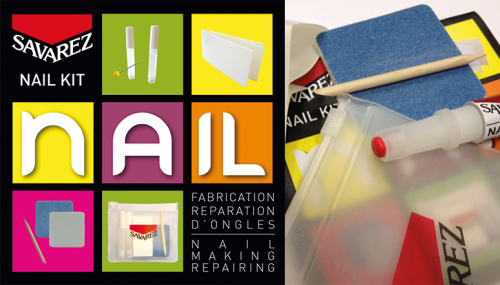 Characteristics of all silk / very close to those of the natural nail resin. Homogeneity after polymerization allowing same feel and sound while preserving the surface layer of the nail. the reconstituted nail may remain in place for several weeks or months .
Instructions and recommendations of nail Kit
PREPARATION OF THE NAIL
It is essential to operate on a finger and a perfectly clean and dry nail.
If there are still remnants of a prior false nail or glue , clean with solvent preferably without acetone
In the case of a single building or lengthening of the nail, it requires no further preparation.
In the case of a broken nail , cut and equalize the nail at the lower limit of the fracture.
PREPARATION OF SILK
Depending on the hardness of the desired nail,cut 1, 2 or 3 pieces of the same size silk.
In most cases, we recommend using 2 pieces; the use of a single nail provides a very flexible and the use of 3 gives a very hard fingernail (some guitarists use 3, 4 even pieces thumb and 2 for the other fingers ) .
The choice of the dimension of the silk must be determined based on the width of the initial nail and of the desired final length . For width, the cut piece of tissue so that it completely covers the width of the initial nail. Define the length of the nail of 3 to 4 mm greater than the desired final length .
Recommendations :
Recap the bottles after use - Keep cool
Warning The resin contains cyanoacrylate . Do not apply too fine , irritated or infected nails . In case of contact with eyes, rinse with plenty of water. If necessary, contact a physician. Keep out of reach of children .