WALTER ABT
Classical Guitar
Germany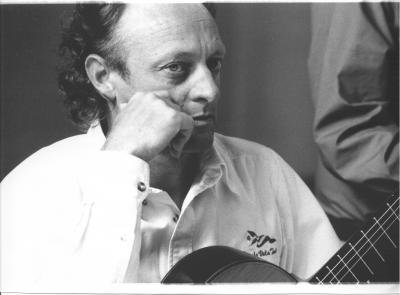 Biography
Walter Abt, born in Memmingen/Germany, is an exceptionally versatile composer and artist, with a special talent for improvisation, influenced by his friendship with gipsy jazz musicians. At the age of 17 he was playing a whole number of different instruments in various ensembles: electric and acoustic guitars, piano, trumpet, flugelhorn, double-bass, accordion and trombone. He acquired technical polish and precision in different styles as a soloist at the Graz College of Music, at the Verona State Conservatoire and in master classes at the Salzburg Mozarteum.
As director of the Munich Guitar Orchestra he was awarded first prize at both the Bavarian Orchestra Competition and at the German Orchestra Competition held by the German Music Council, both in 1992; he also received a special prize for outstanding interpretation of contemporary music.
 In 1989 Walter Abt established the international Summer Seminar for Guitar, which has since taken place under his direction at the Bavarian Academy of Music in Marktoberdorf. The aim of this biennial summer school is to present innovative themes in a wide variety of different areas – Classical, Jazz, Flamenco- with artists of international standing. Abt´s educational concept was adapted also for other instruments and copied by many other festivals and workshops. In the last few years, Walter Abt has collaborated closely with his friend Leo Brouwer.
In 1997 he was selected together with Giora Feidman at the ECHO-award and the Bavarian Movie award. In 2009/10 he was commissioned by the Goethe-Institute for concerts and workshops in Portugal, Cape Verde and Senegal. He likes to surprise his audience with musical crests between classical music, jazz and worldmusic -as well as with ancient instruments like lute or vihuela. He is always welcome and well-received at numerous international festivals.
 
CD/DVD