YAMANDU COSTA
Classical guitar,
Brazil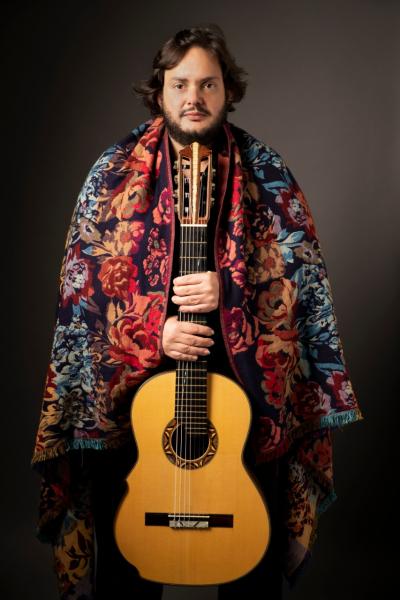 Biography
Yamandu Costa, 7-string guitar virtuoso, was born in Passo Fundo, Rio Grande do Sul, Brazil. He began his guitar studies with his father Algacir Costa, band leader of "Os Fronteiriços", when he was 7 years old. Later, he perfected his technique with Lúcio Yanel, Argentine virtuoso who was then settled in Brazil.
When he was 17, he played for the first time in São Paulo at "Circuito Cultural Banco do Brasil" (BB Cultural Tour). From then on he was recognized as one of the most gifted guitar players of Brazil. The music documentary by Finnish film maker Mika Kaurismaki, called "Brasileirinho" on "choro music" also featured Yamandu Costa, which gave him additional international attention.
Yamandu has created his very particular style of compositions, somewhere between the typical music from the south of Brazil, Choro and Samba with finger acrobatic like passages, high tempo and yet very delicate and melodious pieces.
The recognition he has earned throughout the years reveals what he can offer the audience - recreation of the magic of music - once from his fingers the music he plays travels through his body and soul and is almost miraculously transformed.
Yamandu is a guitar player, composer and arranger that does not fit into a single music style, yet he creates his own when he combines all of them playing his 7-string guitar.
Yamandu fully deserves his beautiful name which in "tupi-guarani", the native language of Brazilian indians, means "the precursor of the waters of the world".
So far, Yamandu has recorded 17 CDs and 2 DVDs, Solo, in Duo, Trio, Quarter and with the Symphony Orchestra of  the State of Mato Grosso and has also performed as guitar soloist with several Brazilian orchestras. Besides numerous concerts throughout Brazil, Yamandu has toured around the world.
His guitar style has inspired many young musicians who are following his new school of guitar playing. He is performed among others also with Bob McFerrin, Melody Gardot, Richard Galliano, Stefano Bollani, Daniel Mille, Sylvain Luc, Stochelo Rosenberg, Sebastien Giniaux, Alfredo Rodriguez, Antonio Zambujo, Pepe Romero etc.
CD/DVD